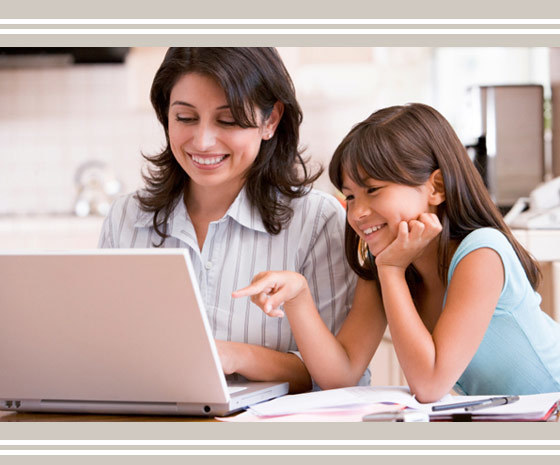 There may be some fantastic schools out there, but if no one is aware of them how can they grow in numbers and develop further? Advertising schools have never been so competitive, so in today's blog we aim to give you a few practical, easy to implement solutions that will boost your school's profile in your community and beyond.
The best schools today have strong fundamentals and cultures that believe anything is possible with any student. They work hard to choose strong teachers with good content knowledge and dedication to continuous improvement. They are data-driven and transparent, not only around learning outcomes, but also around soft skills like completing work on time, perseverance — and punctuality. They promote the active engagement of parents and families in their students' education. Of course today technology helps us build relationships like never before.
Is it time for your school to embrace the tech revolution and market digitally?
If we can place our children in these schools we know the extent of the potential benefits for parents and children alike.
How do we find out about these schools?
How can they advertise effectively and reach the right audience?
How do they communicate their core values to us as a group?
Advertising schools and the communication of a school's core values in their local community and on a national stage is crucial to maintaining pupil numbers and accessing the correct resources. It used to be so simple, didn't it? You printed an appealing brochure, mailed it out to potential families and waited for the phone to ring and the admissions appointments to be made. Not anymore.
You may have the best school, the best faculty, brilliant students. But if you aren't exposing it to as many people as possible, your market will be significantly reduced.
Here are four tips to help you promote your school in the 21st Century.
1. Multimedia enhanced literature: Update old print material such as brochures and prospectuses by adding video and audio to the PDF files with the help of digital publishing software. Engage your audience for longer this way, using interviews and video capture. Make the digital documents available across all platforms, so your audience can read them on their preferred tablet or mobile device. See an interactive example of a digital University prospectus below. Once you have the digital brochure created you can share it easily and quickly via a link, you can add it to your website, share it on disk or USBs. You can email it or you can post it across all your social networking profiles. This brings me nicely on to point number 2.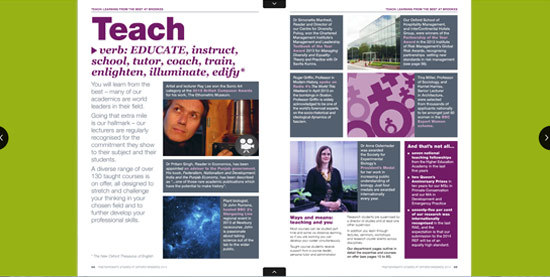 2. Create a Twitter account just for your school. Don't restrict access to the account. All you are going to use this account for is promotional material and public announcements. Share the link to the brochure to your school, use hashtags like name of your school, the area, the age group and also #enroll, #education and so on.
3. Create a Facebook profile: It's a great place to store school literature, photo galleries of events, work, games and other wonderful happenings. A parent trying to choose the right school for their child should be able to grasp a feel for your school from the photos and content available from your Facebook page. Remember what you share here will be shared again and again with your existing students and their parents, especially if it is a celebratory presentation or graduation pic.
4. A professional, responsive website: You need a professionally designed, secure website which allows your community and potential families to interact easily with the school and its staff. Fathers, Mothers and guardians need to feel that your updated information is available to them online. No one waits for postal updates anymore. For school opening times and changes to timetables, rules and policies, etc the most common route is to Google for an answer, make sure you school will be found, and satisfies the new breed of parent that is constantly emerging in this technology driven era. Branching on from websites; now you can aggregate all your school's online content in the form of a Hub. See a Hub below for Pearson University. Like a digital brochure the Hub has the same sharing possibilities and is a particularly good solution for a newsletter that can be viewed as a news wall. You can avail of a free trail of Hubs software here to see if this marketing concept is good for your school.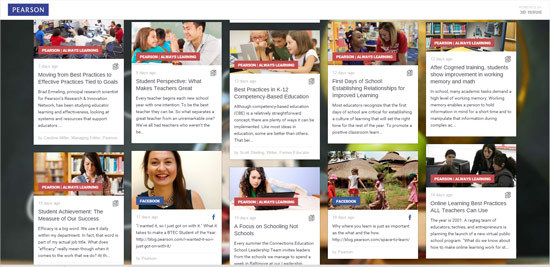 Advertising your school successfully in today's highly competitive environment requires presenting your message in many different ways. Think outside the box. Network and create content with new digital marketing tools. Your school will get noticed. If you have any questions please email info@3dissue.com for any additional information needed.
Image from the nice folks here.
By Audrey Henry