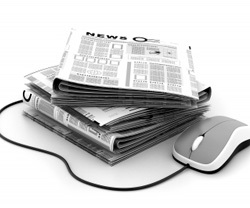 In today`s business world, the name of the game is staying relevant. This may not be easy given the ever-changing nature of a market that is more and more competitive every day.
Thankfully, you just need to choose the right tools to make your brand shine.
Today we are talking online vs print, why digital is the way to go when it comes to staying relevant and ahead of your competition.
1.Reach a wider target audience
Although for many years print media in the form of newspapers, magazines, brochures etc., has been an effective marketing platform, nothing can be compared to the possibilities a digital publication offers in terms of reach.
Imagine for a moment that you create a hub that contains all your blog posts, tweets, videos, facebook posts, Instagram photos and more in just one place. Imagine now that you decide to share the link to your hub through an email or on the social networks. Can you see the potential of it? Not only would your audience have access to all your information, news and content as soon as it's published, but it would also be really easy for them to share it with their friends and family.
Digital magazines, e-books, catalogs and brochures are only a few examples of other types of digital content that you can use for your business.
Let's not forget either, that all these digital publications are responsive and can be viewed on any device be it tablet, smartphone or desktop. That way your target audience will be able to read them when and wherever they want.
2.Engage
Digital publications allow you to include video, audio, images and animations. By doing so, you can success in creating and strengthening the emotional attachment between the customers and the brand. We all know how compelling and easy to remember a video or a song can be.
3.Digital content lives indefinitely
As opposed to print media, digital marketing content lives indefinitely, communicating the brand abilities to the customers for weeks, months or even years. Both potential and existing customers will be able to read it over and over again!
4.Easy tracking
With the integration of Google analytics, you can determine the pages your customers clicked on, how long they stayed on them, which are the videos they've watched and much more. Such precious information will enable you and your marketing team to shape new effective strategies.
With all that in mind, if you are looking to reach a broad audience everywhere, engage your customers and reinvent your marketing, it's time for you to go digital.
If you have questions or want more information, you can email us at info@3dissue.com.
By Anne Kamwila
Image courtesy of hywards at FreeDigitalPhotos.net