How Hubs benefits you

Centralize your content
Allow your audience to access all your content in one place. Collect news from blogs, trending news, Facebook, Twitter, YouTube, and more!

Live, updated content, always
There is no need to maintain your Hub, the Hub updates automatically as content is added to your online sources.

Reach your audience, anywhere
Hubs optimizes your content to suit whatever device your reader chooses, ensuring maximum exposure.

Create your own news aggregator
Create a specialized industry specific news aggregator that specializes in content that is of interest to your target audience.

Increase customer engagement
Create beautifully presented digital editions with tailored content that increases interaction from your readers.
Check out our stunning online samples
See how our customers are using the Hub technology to transform their marketing content. There are several key uses of a Hub, check them out here.

3D Issue Hubs
Using 3D Issue Hubs, you can bring together content you have on websites, blogs, Twitter feed, YouTube account, Facebook, Tumblr and more. Your reader can then access all your content together on any device.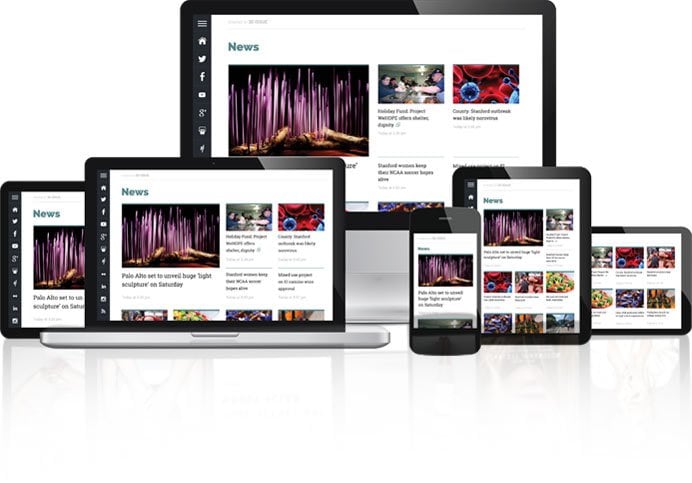 AUTO UPDATING
Once created your Hub will check on the sources and auto update your Hub.

Multiple Locations
Create as many Hubs with as much content as you want.

RESPONSIVE CONTENT
Watch how your content adapts to any resolution, or device.

CLOUD STORAGE
Create, store and manage all of your hubs on our super fast cloud service.

PERSONALIZE
Change fonts, colors & background. Completely customize the Hub.

EMBEDDING
Add your hub into your own website in a matter of seconds.

VIDEO & MULTIMEDIA
Display video and multimedia clips within the content of your hub.

API READY
Integrate your apps into the core hub using our API.

MULTIPLE SOURCES
Add content from RSS, Blogs, HTML pages, social feeds, email and many more…
Learn about hubs
Check out our videos on Hubs to go more in-depth
Our customers have a lot to say about us
We really value our customers and their opinions, we welcome feedback and act on feature requests.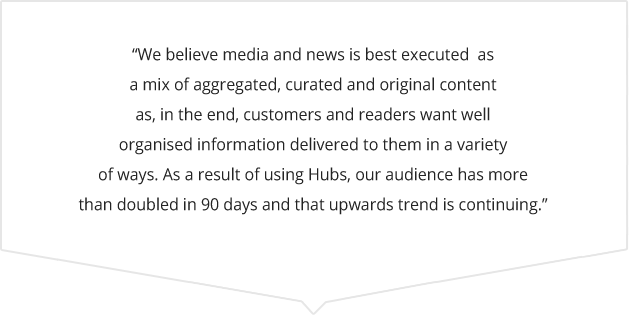 Tim Landon
Chicago Sun-Times

Join an online demonstration
We host free webinars where you can watch our team create a digital publication from scratch and post it live online.