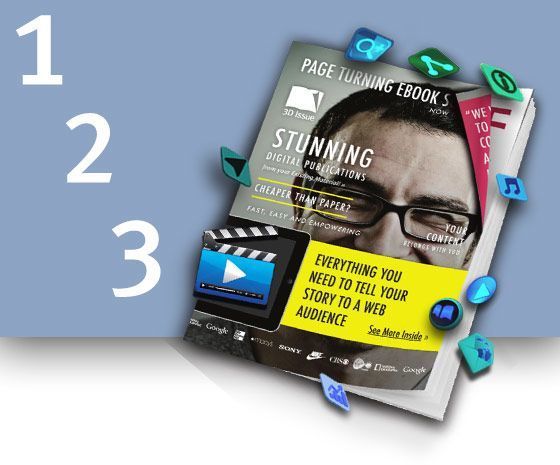 Creating an online magazine does not necessarily have to be an exhausting job! In fact, you might not even need to be a digital expert on technological matters to produce the kind of publication that incorporates a variety of noteworthy features which are at your disposal in digital publishing. In this blog, we provide you with a quick guide to get you started from scratch. For full guidelines please see the 3D Issue resources page here.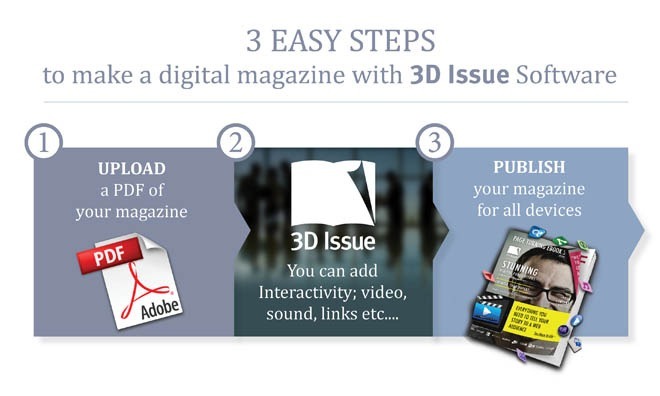 1.Import your PDF content: The first step to create your online magazine is to save your publication in PDF format. One essential aspect before you do this; is to invest some time to check the content of your publication and your objectives. Some relevant questions at this stage are:
– Who is the target audience? Having a clear understanding of who your target readers are, their preferences, needs and lifestyle is the foundation to producing the kind of content that can engages in a meaningful way in the appropriate platforms.
– What are your objectives? (short/medium/long term): Establishing your objectives and focusing on a course of action can lead you to create an online magazine that serves your purposes and guide your next steps.
All you need to do after taking some time to evaluate your audience and what you intend to accomplish is to import a PDF of your magazine into the 3D software and you are now ready to take on step number 2!
2.ADD INTERACTIVITY and FEATURES: 3D Issue provides a range of interactivity and  features to capture the interest of your digital readers. In the DESIGN tab, you can use interactivity to add videos (FLV, YouTube, Vimeo, MOV, and MP4), audio (MP3) as well as web links. All you need to do is try the different tools in creative ways to provide your readers with a fascinating digital experience!
3.PUBLISH YOUR MAGAZINE FOR ALL DEVICES: Your last step after making all the necessary changes in the design tab is to make your publication available in as many platforms as possible. Simply tick all the platforms you want to use to publish your magazine in the OUTPUT tab.
The best way to try our "3 easy steps to create an online magazine" is by practice! We invite you to discover the potential in digital publishing by downloading our free trial version and checking out our video tutorial section.
By 3D Issue