This article explains the different formats of a PDF before importing into the software. This can be quite confusing, as most users would automatically think they would like "Double page spreads" as their layout. Please note though, this section within the software is not how the actual flipbook will look when viewed online. It is actually the format of how the PDF is displayed when you open it, before importing into the software.
When you import your PDF(s) into the desktop software, you will see some options under the LAYOUT called Single page spread, Double page spread and Mixture of both.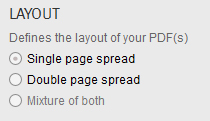 The software will automatically detect whether your PDF(s) is a single page format or mixture of both and change the settings accordingly. If your PDF is a double page spread format (every page shows side by side when viewed in Adobe Acrobat), you must then choose the 'Double page spread' option.
Below are how your PDF(s) might look when you open them within Adobe Acrobat: