If you are uploading your publications to your own server you can do this through our software.
We have a built-in FTP client that you only have to set up once with your FTP details. When you click 'Build' the software will build and upload your Flipbook and present you with its unique web link URL when completed, for example:
www.yourdomain.com/foldername/issuename
Uploading
You only need the following details from your webmaster or hosting provider to set up the built-in FTP client.
FTP Server Address – This is the address that you upload files to.
FTP Login Details – This is your username and password required to upload to the server.
In the OUTPUT tab of the software, under Upload click Add.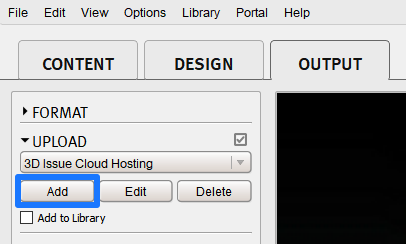 Add your FTP details.
Once completed it will always be selected from the drop-down under upload for you.
We support FTP and FTPS. We will also be adding SFTP very soon.
Still having trouble?
Drop us a quick email at support@3dissue.com
Alternatively, you can manually upload your publication's project folders to your server if you want without the built-in FTP client. Learn more here.