Our Professional and Enterprise software allows you to create online and offline versions of your Flipbooks for desktop, tablet, and mobile devices.
Download Flipbook Viewer on iOS & Android Devices
You can view your Flipbooks through mobile or tablet browsers and through our unbranded Flipbook Viewer app. You can enable or disable a small View in App? banner in your Flipbooks by simply checking iPhone / iPad App and Android App as seen in the image below.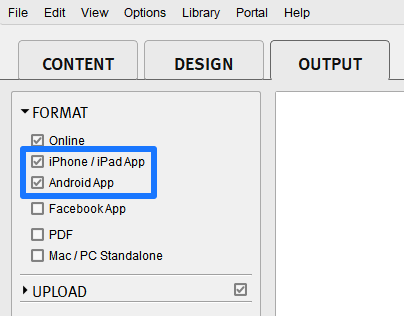 Download Publication on Desktop (Offline)
You can create a Standalone Version of your Flipbook for offline viewing on Windows or Mac. You can share these versions via USB, CD, or any other file sharing service, you can also add them in the 'Download' feature in the features panel of the online version of your Flipbook.
PC: .exe application
Mac: .app application
Like any other application on your desktop, all you have to do is run the offline file to view the digital publication on your PC or Mac. Any interactive features that require an internet connection will not work in the offline version although interactive features that do not require an Internet connection like jump to page hotspots or MP4 video files will continue to work when viewing offline.