We have two app solutions available, Flipbook Viewer (comes with our Professional and Enterprise software) or Branded Apps (additional fee).
Flipbook Viewer
Our Professional and Enterprise software allows you to view your digital publications through mobile or tablet browsers and through our unbranded Flipbook Viewer app.
Flipbook viewer only shows your publications and allows your readers to download  publications for offline viewing.
You can choose to enable a small View in App banner in the digital publication by simply enabling iPhone / iPad App and Android App as seen in the image below.
The banner will show on supported Mobile & Tablet devices automatically after that.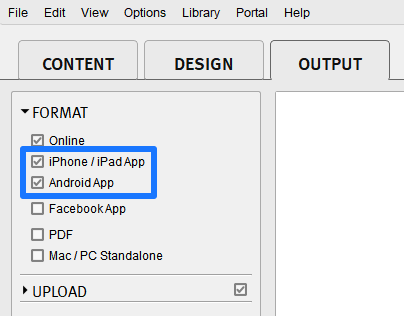 Click the link from our samples below on a mobile or tablet device to see how the Flipbook Viewer prompt works.
https://samples.3dissue.com/flipbooks/magazine-samples/Ford/
Branded App
Using our apps platform, you can bring together your digital publications from Flipbooks with content you have on Facebook, Twitter, YouTube, websites, blogs, and more. You can even create a Flipbooks-only app. Once built and online your readers can then access all of your content from your very own app.
Regardless of your background, 3D Issue apps is simple to use.
Here are some links to an app created by one of our customers (their publications are password protected with our user login feature).
Here are some links to a publications-only app from one of our existing customers on the Apple and Android stores.
See apps pricing structure below.
3D Issue Branded App (iOS and Android) – US $1999 a year
Apple & Google accounts
Distributing apps will require you to create a developer account for both Apple and Google. These unfortunately incur an additional cost, listed below.
The Apple Developer program costs $99 USD per year (You pay Apple directly).
A Google Play developer account is a one-time fee of $25 USD(You pay Google directly).
Our app platform gives you complete control over the look and feel of your app.
You can create sections with different sources.
Change how your content is displayed, as seen in the image below.