You might notice that our font sizes are defined in percentages rather than in the traditional pixels.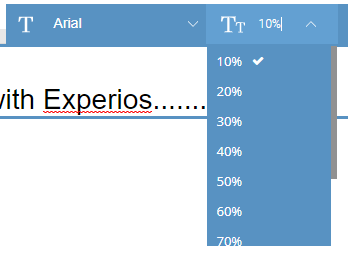 For responsive content to be effective, it needs to be dynamic. Content must reshape to suit the device that the reader chooses to consume it on.  This means that the content must increase and decrease in size, accordingly.  Adding the font size as a pixel would fix the size of the text, meaning that it would not adjust to suit the reader's device.  
The drop-down list has a number of preset options but you can also manually type in the percentage size that you need. A little experimentation may be needed, to find the font size that works best for you, but it's super easy to change.
Spacing

If you want a word to take up a larger percentage of the text field – when creating headlines and so on –  letter spacing is a useful tool. Again, rather than using pixels, the measurements are in percentages.