You can add videos to your Flipbooks via the Video button on the left panel of the Flipbook Editor.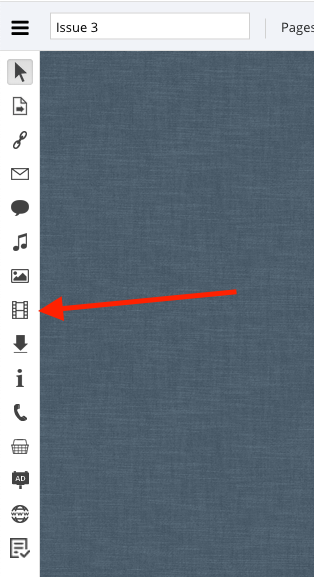 Click the video button then using your mouse pointer, draw the video box on the page.
When you've drawn the box, the video dialogue will appear. This will allow you to select your file and choose the type.
Object type
Object type determines how the video will appear on your Flipbook page. There are three options for videos;
Hotspot
The video will open in a pop-up from a click of this hotspot.
Button
The video will open in a pop-up from a click of this button.
Embedded
The video will play embedded in the page of your Flipbook.
Source
This is the video type. Currently three are supported with some more coming soon;
MP4 – Upload an MP4 video for playback
Youtube – Add a youtube video
Vimeo – Add a vimeo video
Video
If you chose MP4 as your video type, you may see the option to upload your video file.
Youtube or Vimeo ID
If you selected either of these video types you simply need to enter the id of your video and our software will generate the embed code itself.
Advanced
The advanced section includes options to autoplay your video, add a custom poster image or include a custom analytics tag to make tracking it easier.