Zoom is quite important in Flipbooks. It allows readers to focus and read content on your pages on smaller screens or simply see more detail in your images.
The Zoom settings within the Flipbooks editor allow you to control aspects of the zooming functionality.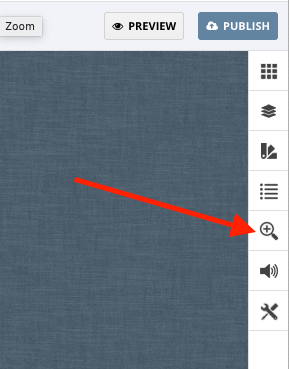 The features panel is accessible via the right bar in the Flipbooks editor. The options available are described below;
Zoom to
Allows you to configure the pages that zoom when the user initiates zoom.
Single page will only zoom the page they have selected or clicked on
Double page will zoom both pages currently open.
Disable Zoom
This is a comma-separated list of pages that should have zoom disabled.
Navigation
This alters the method of Page panning when zoomed on desktop. Two options are available;
Click and Drag – The user must drag the page around the screen using their mouse pointer.
Mouse Movement – The page pans along with any mouse movement.
Desktop Zoom & Tablet Zoom
These two sections allow you to configure the default zoom level for either platform.
Browser Width – Makes the page zoom so that the page width fills the screen width.
Custom – Makes the page zoom to the percentage level specified.
Zoom Slider
Enables a visual zoom slider on Desktop. When enabled the user can use this to alter the zoom level of the publication they are reading.