You will get prompted with the message to enter your library path location if you do not have upload checked when building your Flipbook.
You can either:
Use the built-in FTP uploader in 3D Issue.
You are able to enter your ftp details and setup your upload profile by clicking on add under the upload panel in the output tab. Once you have setup the upload profile you then should be able to build/upload online.
Upload your issue folder to your web server manually
If you don't wish to use the built-in FTP uploader in 3D Issue, you can simply generate the issue folder locally on your computer and then upload the issue folder to your web server separately using an FTP client such as Filezilla. You can choose to only create the local issue folder if you un-check the "Upload" option on the Content tab of 3D Issue. You would just need to drag and drop the entire issue folder that the application creates to the remote directory on your server.
If you have problems setting this up, please send us your server's FTP details and we can attempt to make a step-by-step tutorial for you to follow to get it setup successfully. If you're not sure about your server's FTP details, your webmaster or hosting provider should be able to assist with retrieving those.
None of the above apply to me, as I am uploading to your Cloud Hosting..
If you are uploading to our Cloud Hosting and receive this message, a reason why this message would appear would be if the 'Upload' box is not checked. Please ensure that this option is checked before clicking Build. (see below)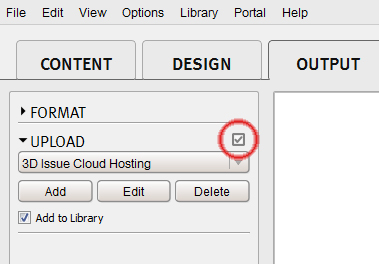 If Cloud Hosting is part of the package you purchased but you do not see the '3D Issue Cloud Hosting' within the 'Upload' dropdown menu, please contact support@3dissue.com and they will assist.