Our solution allows you to automate the process of converting PDFs to HTML5 digital publications with our auto-create and publish (HotFolder) feature. This allows you to drag and drop a PDF or multiple PDFs into a specified folder on your computer, HotFolder then automatically converts it and uploads it with all of your settings on your profile.
How to create your digital publications using our HotFolder feature:
HotFolder is installed as part of the 3D Issue process. Once the user has installed and registered the main 3D Issue software the HotFolder will also be registered for use and will appear in the systems tray. You can see this in the image below.

HotFolder allows the user to change the settings used for creating digital publications by clicking on the Icon shown in the system tray. Once the user has set the Template, Profile and Upload options required to create the digital publications all they have to do is simply drag and drop a PDF into the 'Input Folder' or have this folder designated as the location for their PDFs to be saved when created through the likes of Adobe InDesign.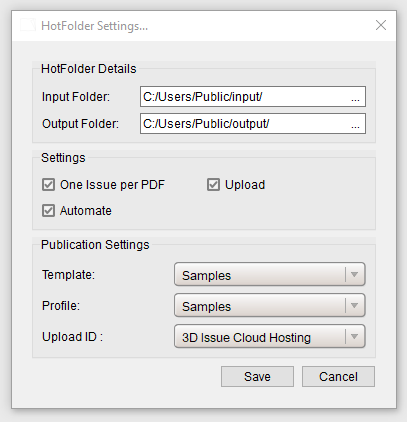 • Input Folder – Any PDFs placed in the input folder will be converted into flipbooks.
• Output Folder – Completed flipbooks are then stored in the output folder.
• One Issue per PDF – Allows you to determine whether a flipbook is created for each individual PDF or if multiple PDFs will be converted into one flipbook.
• Upload – Whether the flipbook will be uploaded to a server or not.
• Automate – If enabled, the flipbook will be named after the PDF converted. If disabled, the hotfolder will prompt you for the flipbook's name after each conversion.
• Template – Select your company's template.
• Profile – Select your publication's profile.
• Upload ID – Select the server where you want to upload the flipbook.
This way you can automate the process of building your digital publications through our software, many of our customers make use of this feature to build and upload their archive of publications through the software or when they are converting many publications through the software daily/weekly.
Let us know if there is anything you or your team are unsure about with regards to the auto-create and publish feature, we are more than happy to discuss the HotFolder in-depth with you if you want to call our offices at the number below or email us at sales@3dissue.com.
US: (718) 569 6212
Opening Hours: 4:00 AM – 4:30 PM (EST)