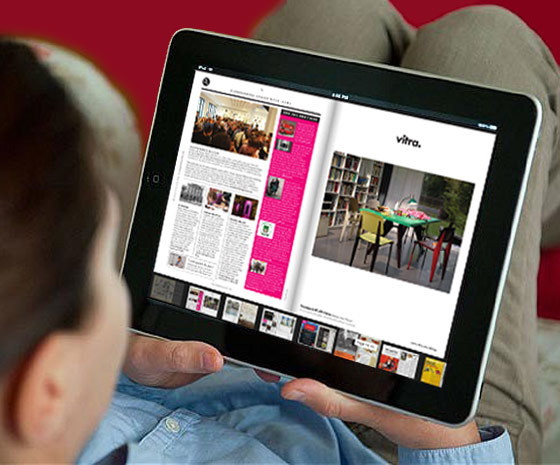 Each day we speak with businesses worldwide regarding creating digital publications for their audience. There has been an increase in mobile friendly publications over the last few years as a result of the explosion in popularity of mobile and tablet devices including the iPad. So today we thought we'd answer a few of the most frequent questions we get asked about creating iPad magazines and share with you…
Q. Does 3D Issue create iPad friendly publications?

 Yes. 3D Issue creates both flash and HTML5 digital magazines from your PDFs. These two versions can be created by checking the "online (Flash/HTML5)", option in the Output tab of the software. Once this option is checked and you upload the publication to your website, readers will automatically be directed to the version that is most suitable for their device. So for example iPad users will automatically be presented with a full page-flip interactive HTML5 magazine.

Q. So does 3D Issue create Apps?

3D Issue creates HTML5 web apps. Readers viewing the iPad HTML5 version can do so via a browser and can even add an app-style icon to their iPad home screens giving them quick access to your magazine when they need it. You can of course design, create and upload your own App icons. Take a look at this short video that shows how a reader can access the web app via their iPad or iPhone home screen. iPad readers will need to be online to view the publications via 3G or WiFi.
A native app solution is also available, your own logo and images can be used. You can have your own app that is completely branded to your business. With an app tailor made to your personal preferences, you can connect with your audience through affordable, customized Android, iPhone and iPad apps.
Q. How can iPad users access my publication if it's not a native App?

iPad and iPhone users can access your digital publications via a link to its online location. So whether you provide the link as an image of the front cover that links to your online magazine you created, a link sent via email or a 'view our latest magazine issue here' text link on your site – the choice is yours. Once an iPad reader has clicked on such a link, the publication will launch in their web browser.

Q. What about my readers on other mobile and desktop devices?

Obviously it's not just the iPad that your readers may be wanting to view your content from. Readers may be on iPhones, Samsung Galaxy, PC, Mac or other devices. As the digital magazines created by 3D Issue are in flash and HTML5 format it means that devices that have an internet browser such as Safari, FireFox, Explorer or Chrome can all access the magazines too.
For more information on anything mentioned in this blog please email your questions to info@3dissue.com and we will be happy to help you.
By Audrey Henry