Knowledge Base
Flipbooks Version 9
What's the Hotfolder and why is it so important in version 9?
The Hotfolder is a background process/application that powers the Flipbooks application's Queue Manager. It is important because the entire building process relies on the Hotfolder to complete the conversions.
Whats the difference between version 8 and version 9?
New Uploader / Queue Manager
Because 3D Issue FlipBooks V9 generates more files than previous version to achieve increased page quality, the flipbook conversion time has increased also. Because of this, we have implemented a new Queue Manager.
As you proceed to build a flipbook, the conversion and upload process is moved to the queue that acts separately from the main application. This means that you can start working on other flipbooks as others are getting processed in the queue, saving you time especially if you need to produce multiple flipbooks in a short period of time.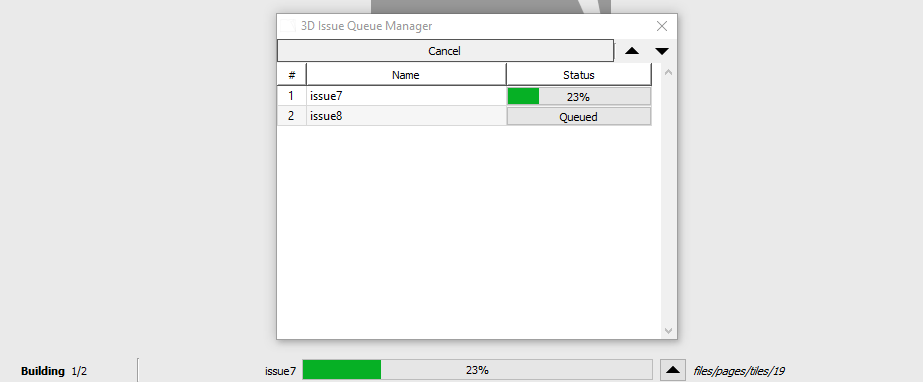 Enhanced quality flipbooks
3D Issue FlipBooks V9 creates an additional unique version of each publication specifically designed for mobile readers. As the screen sizes, browser memory and caching allocation are much smaller, we developed a new technology that essentially breaks each page into hundreds of 'tiles', then only loads in the part of the page that fits within the device's screen whilst also loading all other parts of the page around that current view.
So, what's the key advantage of this new technology? It increases the quality and loading speed of your mobile editions.
What's the difference between the mobile version with v8 and v9?
Simply put – the page quality and the speed at which your flipbook pages load on mobile devices has been improved in this latest version of 3D Issue Flipbooks.
The "tiler" technology ensures that you're always viewing flipbook pages at the optimal quality regardless of zoom level or the resolution of the mobile device being used.
Page transitions and pinch gestures have also been made smoother than what was found in previous iterations.
Why can't I run 3D Issue without the hotfolder?
The Queue Manager relies on the Hotfolder background process. Without the Queue Manager, the build process cannot start. This is why it's essential for building flipbooks that the Hotfolder process is running in the background.
Why does the software ask me whether I wish to open 2 separate programs on Mac after the installation – "Flipbooks" and "Hotfolder"?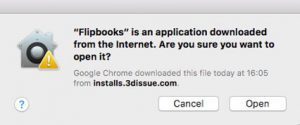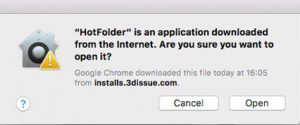 3D Issue Version 9 installer is downloaded from the internet rather than from Apple's App Store so you need to click "Open" in order to proceed. This is similar to any other Mac applications downloaded from the internet.
Because the FlipBooks application needs to launch a secondary "HotFolder" application, a second prompt is displayed as well.
Do I need to click "Open" for both programs?
Yes.
You need to allow "Flipbooks" in order for the main application to launch. You need to allow "Hotfolder" to enable the conversion process. If you accidentally click "Cancel", a the prompt should appear again shortly after importing your PDF file into the FlipBooks application.
Flipbooks Version 8
Are the images vectorized?
Bitmap graphics/images cannot be converted to vectors if they were not originally created as such. Images or photos are never saved as SVG (scalable vector graphics) but are saved as raster graphics instead. However, this should not be a concern since the quality of the images/photos should be retained when converting to 3D Issue version 8 flipbooks.
Are the offline versions powered by HTML5 also?
The offline standalone versions for Mac and Windows do actually utilize Flash. The Flash Player comes included/contained with the offline executable/application file so there is no need for the end-reader to have Flash installed already – the required Flash Player is packaged with the offline file. Using Flash in this instance is not a problem since the offline magazine runs outside of any web browsers and instead runs natively on the machine. The offline versions for iOS and Android are app based. The free Flipbook Viewer app for iOS and Android can essentially download the online flipbook content for offline viewing. These are optional features.
Can I keep my publications in version 7
Yes, you can keep any publications created in version 7.
Publications created in version 7 will still be available, however please be mindful that Flash content may not display as expected once web browsers start dropping Flash support. However, you can switch to display your HTML5 version of your online flipbook instead.
How do I convert my publications from version 7 to version 8
Updating your publications from version 7 to version 8 is very straightforward.
Simply follow these steps:
Open the existing flipbook in 3D Issue Flipbooks version 8 by clicking "Open Existing" on the main screen of the application.
Once opened, you would just need to click Build in order to generate the new, HTML5-only flipbook.
You can then upload this updated flipbook to your Website or to our Cloud if you are a Cloud Services customer.
How will bug fixes be instantly applied?
As the flipbook code is centralised, most potential problems or bugs that might appear with the online flipbooks can be resolved on our end and the solution will be applied to all of our customers at the same time – without the need for updated installers or additional effort from the flipbook creator in order to resolve. This means quick and seamless updating and no additional steps for our customers.
How will upgrade impact my audience's experience?
When upgrading from older versions to version 8, Your readers will instantly notice an increase in page quality and performance when viewing your online flipbooks.
Your readers will also be able to view the publications on any device and browser, without getting any warnings or notices about Flash support ceasing. Version 8 provides peace-of-mind about the eventual death of Flash as version 8 is 100% Flash free.
I have noticed on some pages that the text is not vectorized. Why is that?
There can be a few reasons for this. Most of the time, this occurs if the text in question is part of a bitmap graphic on the PDF page rather than having been added as embedded text on the PDF document. images cannot be vectorised. Only text that has been embedded on the PDF document can be vectorised. If you are sure that your text has been embedded on your PDF document but your text is not being vectorised and looks blurry, please send our support team your PDF file and mention where the problem occurs so we can investigate further. Our support team can be reached at support@3dissue.com.
My 3D Issue version 8 online flipbook fails to load
Q: Once I build and upload my flipbook to our server, it fails to load – the progress bar never moves: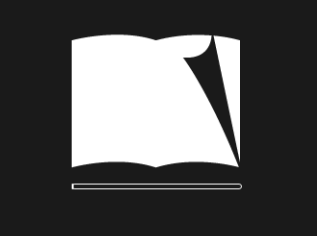 How can we resolve?
A: This usually indicates that the server hasn't been configured to serve .json files. You should be able to resolve this by configuring MIME types on your server. The particular file extension is .json and the MIME type should be configured as application/json
Please reach out to your webmaster as they should be able to proceed with this.
If the problem persists, don't hesitate to contact our support team directly at support@3dissue.com and provide the online flipbook link so they can investigate further!
Pages in my flipbook are missing text
Q: I created a flipbook using 3D Issue version 8 and once I uploaded the flipbook to our web server and view the flipbook online in my web browser, I'm not seeing text on my pages once I zoom in. Help!
A: The most common cause for this problem is due to an incorrect server configuration for .svg files. Ensure that your server has been configured to serve .svg files by contacting your server administrator.
Please see here for more details regarding SVG server settings: https://www.w3.org/services/svg-server/
If you have ensured that your server has been configured to serve SVG files correctly and the problem still persists, please contact us directly by sending us an email to support@3dissue.com
What do you mean when you say that all of the code is centralized in version 8?
The code that runs the online flipbooks is stored and managed from our servers. This ensures that all of our customers are running their online flipbooks using our latest most up to date iteration of the flipbook code.
What happens to all of the embedded flash animations in my publications?
The demise of Flash has started, so any Flash animations you have in your publications will only work on browsers that allow the Flash Plugin to run. It may be worth your time to look into moving towards HTML5 animation solutions if you are currently utilizing Flash animations. HTML5 animations will run on all browsers whereas Flash animations will not.
What happens to the old publications in version 7
Nothing will happen to your older publications created with version 7. These publications will still be available. However, once browsers stop supporting Flash there may be extra steps required for readers to enable Flash in order to view your Flash based content.
It remains unclear whether web browsers will completely block flash on their browser platforms.
What if I don't upgrade to the latest version, what must I do to retain my audience?
When browsers drop support for flash, this will mean your end readers may not be able to view the flash version of your online magazine on certain web browsers. If you are not upgrading to Version 8, then it is highly advisable to provide your readers with the alternate HTML5 version link to view your existing issues.
To achieve this you would need to edit/amend the online magazine URL to switch to display the HTML5 version accordingly. Please see below for examples:
3D Issue Version 5
· Flash
www.yoursite.com/magazines/issue1/index.html
· HTML5
www.yoursite.com/magazines/issue1/files/html5/index.html
3D Issue Version 6.0 and newer
· Flash
www.yoursite.com/magazines/issue1/index.html
· HTML5
www.yoursite.com/magazines/issue1/html5/index.html
Version 7.2, 7.3, 7.4
In these versions of the software there is a "HTML5 Only" output option. When this option is selected the software will only build a html5 only version of the magazine and the link generated will automatically load the html5 version. You should be able to select this option under the formats panel in the output tab in the software.
What is the difference between version 7 and 8 ?
Version 8 of 3D Issue Flipbooks introduces a market first in terms of HTML5 and quality. We have been creating solutions for marketers and publishers for over 10 years and are constantly evolving the software to enable users to create the best flipbook experience possible for their readers.
With the announcement from several major broswers that support of Flash is going to be stopped, we have developed version 8 to be 100% flash free. This means that flipbooks created with version 8 will be future-proof and won't conflict with modern web standards on top of looking phenomenal.
Version 8 also introduces vector text quality to the HTML5 flipbook. This means that your end readers will have clear and sharp quality text no matter how far they zoom in to the page. This is the first solution available on the market at the time of launch.
What is vector text and why is it important?
Vectors ensure that any embedded text found in your PDF is converted accurately and displays clearly to your end readers. When zooming into pages with vector text, the text holds onto its vector form and doesn't get blurry or pixelated, no matter how zoomed-in you need to view the page content. In a nutshell, crystal-clear text!
What's new in version 8.1?
The new features that are currently being implemented for version 8.1 are listed below:
1. Option to allow you to be able to change the positioning of the features panel in your digital magazine.
2. Option to allow you to hide the audio control panel that appears in the digital publication when an audio plays.
3. Option to allow you to hide the navigation menu that shows on the bottom of your digital magazine.
4. Front cover and back cover pages' ability to center on the screen dynamically
5. An autoflip feature that will allow to the page in your digital magazine to flip after a number of seconds without user input.
6. A clipping tool feature that will allow you to take a clipping from your digital magazine. You will be able to print, save or share the image.
7. An option for "temporary hotspot highlighting" that will temporarily highlight all of the hotspots on a page once the page is landed on.
What's the difference between the HTML5 version that is available in version 7 and 8?
Both version 7 and version 8 allow customers to convert their PDF documents into HTML5 flipbooks. The HTML5 flipbook solution in version 8 has been improved dramatically when compared to previous iterations.
Version 8 users will be able to create HTML5 flipbooks that have a higher resolution images and, most importantly, vector graphics for text. This is a huge advantage to your readers and at the time of launching version 8 it is the only solution available that produces this quality.
The vector text of the HTML5 flipbook made in 3D Issue Flipbooks version 8 means readers will have sharp quality text no matter how far they zoom in to the page.
When will browser's start blocking Flash Magazines?
Firefox
Starting from August Firefox are starting to carry out their plans to reduce the use of flash in everyday browsing and will start to block certain Flash content which is not essential to the users experience. Then in 2017 Firefox will put in place a requirement where the user will have to click to activate flash plugin so that the content can be viewed.
In 2017, Firefox will require click-to-activate approval from users before a website activates the Flash plugin for any content. Websites that currently use Flash or Silverlight for video or games should plan on adopting HTML technologies as soon as possible. Firefox currently supports encrypted video playback using Adobe Primetime and Google Widevine as alternatives to plugin video
https://blog.mozilla.org/futurereleases/2016/07/20/reducing-adobe-flash-usage-in-firefox/
Chrome
For the next release of Chrome in September 2016 Google have announced that they will to stop support of flash by default on all websites.
http://www.extremetech.com/internet/233383-google-chrome-will-start-blocking-all-flash-content-next-month
Why can't I see my website when using the 'Webpage' feature?
If a flipbook is hosted on a secure website (https://), it cannot display web pages that are added to the 'webpage' feature, if they are hosted on an insecure website (http://).
You cannot load a website from an insecure site to a flipbook on a secure site
You can load a website from an secure site to a flipbook on a secure site
You can load a website from a secure site to a flipbook on an insecure site
You can load a website from an insecure site to a flipbook on an insecure site
Why can't initiate automatic full screen?
The reason that fullscreen can not be initiated automatically is due to browser security reasons.
Please note that the fullscreen feature is being re-introduced in a near future version of 3D Issue once a safe, reliable workaround is found.
Why did you remove version 7?
3D Issue is always looking at enhancing the software, adding more features that will enable our customers to create even better flipbooks.
Version 8 proceeds version 7.4. As you versions of the software are released, the previous versions are no longer available for new users. We wish to provide the most up-to-date and polished version of 3D Issue to our customers at all times.
Why is the text vectorized and the images are not?
Bitmap graphics/images cannot be converted to vectors if they were not originally created as such. Images or photos are never saved as SVG (scalable vector graphics) but are saved as raster graphics instead. However, this should not be a concern since the quality of the images/photos should be retained when converting to 3D Issue version 8 flipbooks.
Why is upgrade protection now so important?
The digital content market is evolving at a rapid rate. We have been in the market for over 10 years and have seen some significant changes during recent years. We aim to equip our customers with the very best tools to be able to create the most effective digital editions to your audience.
We are constantly adding new features and enhancements to better serve our customers, in fact we release between 3-5 upgrades each year, some of these major upgrades. Upgrade Protection is an annual charge and allows customers to get these new editions and features as and when they are released, no matter how many new features are released in that year. Customers with Upgrade Protection have peace of mind that their software is always up to date and always have access to the latest enhancements.
Flipbooks Version 7
3D Issue & Google Analytics, where, how and why
Google Analytics (GA) is a free service offered by Google that generates detailed statistics about the visitors to a website.
Essentially it monitors how many readers your publication/website gets and what they do with it. With the use of 'Event Tracking' you can monitor their actions in the publication and identify what publications were most popular.
Where do I Signup?
To register, go to https://www.google.com/analytics/ and select 'Create an account'.
What kind of statistics does 3D Issue record in Google Analytics?
The stats recorded include:
• How long readers spend reading your magazine
• How many times readers zoom in on each page
• Average number of pages read per visit
• Which pages the reader skipped to
• Which pages the reader zoomed in on
• Which audio files the reader played
• Which video files the reader played
• Which flash movies the reader played
• Which websites the reader visited
• What comments the reader forwarded
• What addresses the reader sent emails to
• What keywords the reader searched for
• How often the reader used thumbnail navigation
• How many readers used the exit button
• How many readers skipped to other editions
• How many readers altered the settings
• What pages the readers printed
• What articles in the contents menu the reader clicked on
• From which page the reader initiated the send to friend feature
• Where your readers are logging in from
• Their browser settings
• Total number of readers per issue
• Percentage of new readers per issue
• Percentage of repeat readers per issue
How do I add analytics to my publications?
You can add Google Analytics to your publications easily at any time by following the steps below.
First you'll need your Google ID. You'll need to sign up to Google analytics then add a website to get the ID. The ID is normally in the form of UA-12345-12, this is what you'll need to enter into 3D Issue.
Once you have that ID follow these steps to add the ID to your publications:
1. Open 3D Issue and create a new publication or open and existing one.
2. In the profile section of the content tab select the template you want to add analytics to and then click edit (version 6 and lower) or setup (version 7 and above).
3. In the Window that opens go to the "Domains" section then either click;
a. "Add" to add a new domain along with a Google ID.
b. Select a domain and click edit to attach a Google ID to that.
4. Then click next then Finish if you have no other changes to make.
5. Now all your publications on that domain, existing or future are recording analytics.
3D Issue Custom link detection
What is it?

The custom link detection function in 3D Issue version 5 and above is designed for publishers that want an automated way to make unique URLs from text in their publications such as order numbers, product codes, page numbers, etc.
This could be a real help if you have an index in your publication and have loads of page numbers to link up but they are simply text on the page when in the PDF. Or if your catalogue has loads of items that you want to link to the store or add them to cart from the publication.

The Basic Idea

Detect text and place part or all of it in a URL for a server script, html page, etc.

How do we do this?

Before you import your PDFs we need to set up the detection. So open 3d issue and go to:
Options>Advanced>Custom Link Detection
This will open a window that looks like this:
To detect the text we use a concept known as regular expressions (regex). These are essentially sets or characters that are used to identify patterns in text.
The basic syntax of regular expressions remains the same no matter where you use it. If you have a scripting programming background you will probably already know what to do.
After we detect the text we will most likely need to do something with it!
3D Issue offers two ways of using the detected text – Linking to another page in your document, or linking to an external page with a unique URL (based on the text you have detected).

Detecting text

We'll start off with a basic example of how we detect some text. Say we want to detect 123.
We would simply open the custom link detection wizard  from the Options menu of the software and enter 123 into the regex box. This will then detect all instances of "123" in the document. The same would apple to normal text, just type it in.
If you wanted to have a space in between each Number or Word you would insert [ ]
– that's "bracket space bracket"
The regex for this would look like: 1[ ]2[ ]3
If there was more than one space you could simply put a "+" after the end bracket to signify that there was more than one space e.g. 1[ ]+2[ ]+3
Or if there was more than one "3" it would be 1[ ]2[ ]3+
What if I want to detect any number?
You can detect a single number (no matter which) by using [0-9]
If it was any 3 digit number you would use [0-9][0-9][0-9]
Or if it was a number of any size [0-9]+

Detecting any letter

Detecting letters is similar to detecting numbers.
To detect any letter you would use [a-zA-Z]
Any lower case letter would be: [a-z] or upper case letter would be: [A-Z]

Multiple numbers or letters

To text multiples of any detected character or string simply place "+" after it.
E.g. [0-9]+  or  [a-zA-Z]+

Armed with that

If we wanted to detect a product code on a page – say the product was always going to be similar to:
PA12345
So PA will always be in front and there will always be 5 numbers behind it.
The regex would be PA[0-9] [0-9] [0-9] [0-9] [0-9]
Say if you wished to detect something similar to this: PA12345x (where x is a lowercase letter that might change)
You could simply use PA[0-9]+[a-z]
Using what is detected!
To use all or part of the detected text in the URL that is created we use parenthesis  "( )" to capture the information. So for our example above we only want the numbers and the ending letter.
So we would wrap that section in parenthesis: PA([0-9]+[a-z])
The captured text is then stored in a variable called $1
This variable can be placed as part of your URL to signify where the captured data will be placed. For example if we want to post the product number to a php script we could use a url similar to
http://your-domain.com/scripts/orderscript.php?number=$1
The $1 would get replaced in the final URL with the detected text so it would end up being:
http://your-domain.com/scripts/orderscript.php?number=12345x

Finally

Import your PDFs!
When you import your PDFs into 3D Issue you should see hotspots created around the various links and detected items in the publication. Just click on them and select properties if you want to check what they are linking to or if you want to add a link of custom text to.

Some points

•If you want to detect more than one type of link you can do this as long as they are on separate pages.
– Import one page with the link detection enabled.
– Change the regex to find a different link
– Import the next set of PDFs and then arrange them as needed.
• The detection will not work if words or text you are detecting are separated by a table – this can't be detected as text.
• There are more complex sets of regex and syntax that can be used however you should avoid any that use parenthesis. There are many tutorials and tools available online for regex. Unfortunately we cannot link them all here but they're not hard to find. That said, basic text and numerical detection should be enough for most* publications.
• Because of the nature of PDFs and the characters' that can be embedded into the text, wild-card detection should be avoided as it will be unreliable at best.
Are there any system requirements for using 3D Issue?
For PC readers:
As long as you have either Windows Vista, Windows 7, Windows 8, Windows 8.1 or Windows 10 installed, then this is fine. If you are running on Windows 2000, this is also fine, however please inform us as we would have to send you a small patch along with the software.
Memory: 512MB of RAM / 1GB of available hard-disk space for installation; additional free space required during installation
For Mac readers: Any Mac on OS 10.7.x upwards (64 bit only).
For the server:
5gb of storage
50-100gb of bandwidth per month
Disallow SWF file compression
Creating a Library
In 3D Issue 6.1 we introduced the library tool. A small app in the software that allows you to generate an XML Library file easily without the worry of syntax and correctly formatting the file.
To create a library;
1. Open the 3D Issue software. Along the top of the software you should see the application Menu with options like "File, Edit, View…"

2. Select the Library Menu then Select "Create New Library". Alternatively: You can select "Edit remote Library", this will open the library file existing on your server or create a new one on your server automatically. This does rely on the Upload settings in the Output tab of 3D Issue however.
3. A window will open prompting you to save the file, we recommend saving the file as Library.xml, you can save the file anywhere on your computer. Click Save
4. A new Window will open.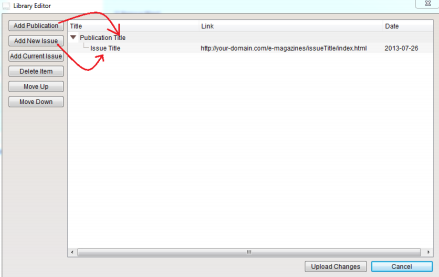 5. The first thing you'll need to do now is add a Publication. Using the "Add Publication" button on the top left of the window. The publication just consists of a Title.
6. Once you have added the publication you can proceed to add Issues to the publication. Make sure to add the correct URLs and ensure that dates are added otherwise your issues will not get sorted correctly in the App!
7. When Happy with the library you have you can select "Save Changes" on the bottom Right. Once you have the library file it can be uploaded to your server. Or Upload Changes if you selected to edit the remote Library.
Embedding 3D Issue Flipbooks in your own native app
To embed a publication in your native app, you simply need to open the URL of your 3D issue Publication in a WebView. This is possible in version 6.2 and above.
iOS (Obj-C):
NSURL *request = [NSURLRequest requestWithURL:@"https://samples.3dissue.com/flipbooks/magazine-samples/3dissuedemo/index.html"];
[self.webView loadResquest: request];
Android (java):
webView.loadUrl("https://samples.3dissue.com/flipbooks/magazine-samples/3dissuedemo/index.html ");
You can obtain a full list of your publications from the 3D issue Library that is generated by the software. You can find the link to your library file in any publication that you've created and uploaded by appending "files/data/bookinfo.xml" to the url, so our sample from above would be:
https://samples.3dissue.com/flipbooks/magazine-samples/3dissuedemo/files/data/bookinfo.xml
Inside that bookinfo file search for "value313", that will give you the address of your library.xml
Error occurred while loading template details
Could not load logo and copyright error
The template error is usually caused by the domain not being correctly added. In some cases the URL is not detected correctly because of different services etc. The error message that is shown is as follows: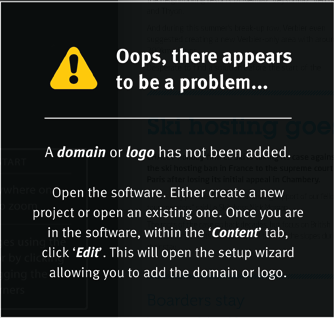 We recommend adding two version of the domain to ensure your publication works correctly, one with the "WWW" and one without.
If your domain is:  www.your-domain.com then you would add:
http://www.your-domain.com
http://your-domain.com
This ensures your domain will be detected correctly when a user visits your publication.
To add a domain:
1. Click "Setup" on the left side of the Content Tab ("Edit" on Version 6.0 and older).
2. In the Window that opens, click on "Domains"
3. Add you domains and your Google analytics ID  if needed (not required)
4. Click next and then click Finish.
Your domains should now be added.
Failing to login
I downloaded the trial version but the login step is failing, what did I do wrong?
If copying and pasting the login information into the credential fields, ensure that no accidental spaces were copied into either field. The error is usually given because of this reason.
Flash file requirements for embedding in 3D Issue
Are there any Requirements for adding Flash files into 3D Issue publications?
Version 8 and later of the software are all flash free due to all the security issues. If you own a previous version we highly recommend you update to the last version of the software to make sure your publications can be viewed on every browser and device. You can contact sales@3dissue.com for more information.
If you still want to create publications with flash files, these are the requirements:
1) Any SWF files created for embedding in 3D Issue should be created to Flash 10 standards using Action Script 3.
2) Animations should play at 60 Frames per second to ensure that they play correctly.
How do I access my new template?
I purchased the new template license, how do I get it into 3D issue?
To access your new template, you need to sync your template settings in 3D Issue.
1) Open 3D Issue Professional/Lite
2) On the top menu, click "File" -> "Refresh Templates"
3) Login with your original details (these are included in your account details email)
4) Your software will update and your new template will be added.
5) Use the setup wizard to add the new logo, domain and copyright info for the new template (Content tab > Edit button)
How to upload and manage your issues with 3D Issue cloud hosting
If you have cloud services added to your account you can upload your 3D Issue publications to our hosting service. To select the cloud as the target to upload your issues, please navigate to the Output tab in 3D Issue Professional and choose "3D Issue Cloud Hosting" from the Upload drop-down menu. Ensure that you have at least "Online" checked under the "Format" menu and proceed to build. This will generate the issue files and upload the issue to the cloud server. Once complete, you can view the issue online using the provided URL.
Q: How do I remove/manage issues that I have uploaded to the cloud?
A: You would launch 3D Issue and click "Manage Issues" under the "Portal" menu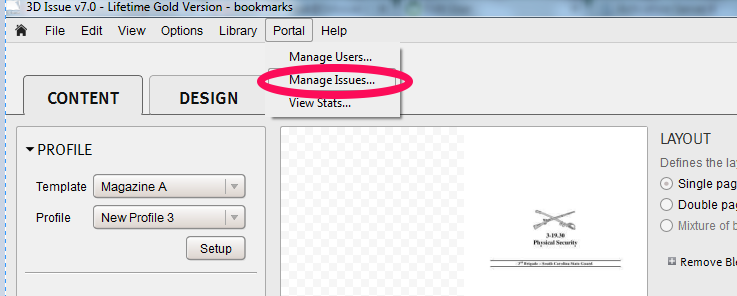 In the window that opens you can see cloud hosted issues for each of your templates: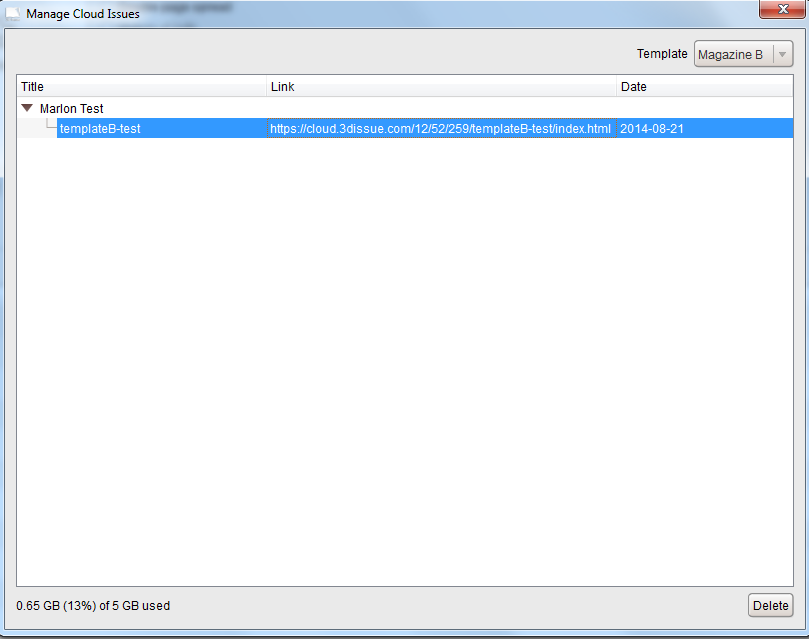 In the above example, only a single issue has been uploaded to the cloud under the template "Magazine B". It can be removed by highlighting the issue and then clicking Delete.
I'm getting a gatekeeper error when I launch 3D Issue
Q: I'm getting the following error when attempting to launch 3D Issue. How to fix?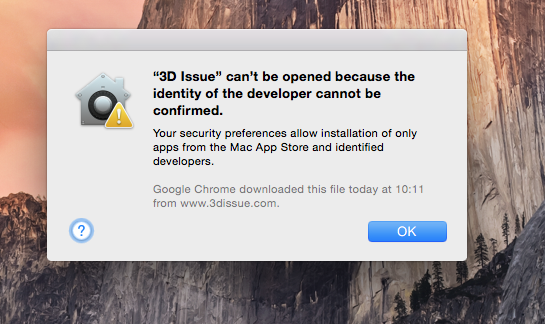 A: This is due to current security preferences in OSX. Please navigate to your Security & Privacy settings by clicking the Apple menu and then Preferences. In the general tab of Security & Privacy, please click "Open Anyway" as illustrated in the screenshot below. You can also avoid this warning by setting your downloaded apps setting to the "Anywhere" option.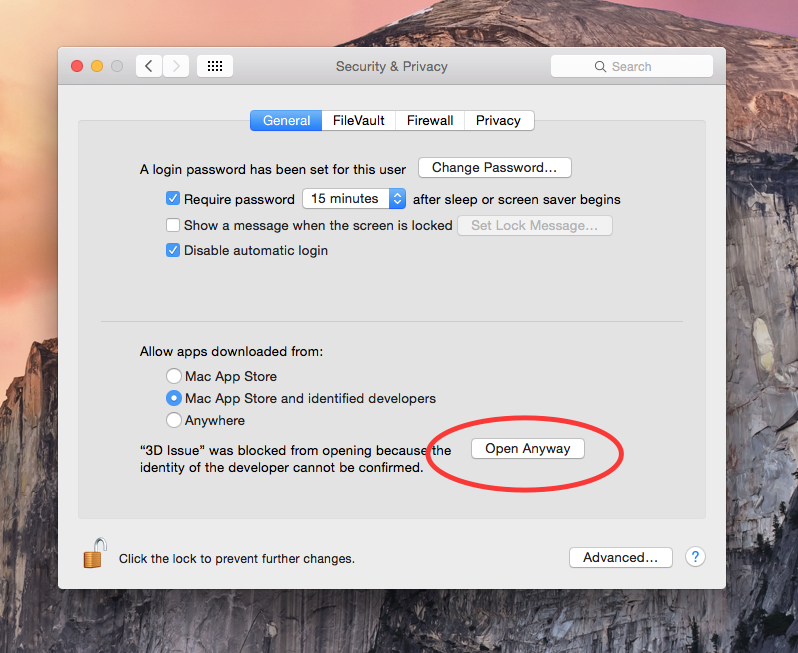 Keyword Search Across Multiple Publications
Can I keyword search across multiple publications?
We do not offer the ability to search across multiple publications as it requires running a search facility on your site. To create one that suits all clients hosting and server configurations is not possible for us to do.
However, we have prepared the content in such a way that it would be easy for any webmaster to initiate this functionality. For every PDF page that is converted, there is a html page created that contains the text of the PDF page. This will allow search engines to scan and index the pages. However when the user clicks on the link, they will not see this list of text, instead the flash magazine opens at that page. A customer of ours has implemented this feature (see below)
May I create publications for my clients using 3D Issue?
Service Provider
We have many agency customers who have clients they wish to prepare digital editions for. This use of the software is similar to a digital magazine service. Each solution on our website is sold with 1 template, regardless of the number of copies of the software purchased. 3D Issue software may be used to create unlimited digital editions of any past, present or future issue of any publication owned by that company. Should another client wish to have digital editions created please contact our sales team at sales@3dissue.com to purchase an additional template.
Once purchased, a template for Company B will be integrated into the software which will allow for the generation of unlimited digital editions of any past present or future issue of any publication owned by company B.
The cost of the template depends on the level of interactivity the client wants. This template may then be configured to include their logos and branding and will be configured to display at the correct URL . This additional template is part of the initial 3D Issue software license and may be used on unlimited client publications for that specific client logo.
Can I become a reseller?
For information on reselling 3D Issue software please contact sales@3dissue.com or call direct on US +1-718-569-6212 or UK +44 208 0999 739
MP4 Videos are buffering to the end before playing
Q: I'm having issues with my MP4 files, they take a very long time to load.
A:It appears that your videos are buffering to the end before they will play. This is down to how the files are originally created. All flv and mp4 files have an index marker that establishes how long a video should buffer before playing. As far as we know, this cannot be changed for flv. You can however correct the problem in an mp4.
The index marker that appears at the end of the mp4 file is called the 'moov atom' and an Adobe developer called Renaun Erikson (renuan.com) has created a program that moves the marker to the beginning of the file.
You will first need to download and install Adobe Air:
http://get.adobe.com/air/?promoid=BUIGQ
You will then need to install Renaun's 'Qtindexswapper' program:
http://renaun.com/blog/code/qtindexswapper/
Now you can load you mp4 files into the qtindexswapper software and click 'Process' and it will fix the buffering when they are viewed online.
As for the zoomed-out resolution of your pages we would suggest that you experiment with the DPI and Quality settings on the 'Output' tab to get those that best suit your publication. Some users have found that a lower DPI can help clarify zoomed-out text.
On which devices is the page flip effect available?
The page flip effect can be seen when viewing a publication on desktop browsers and the iPad/iPad Mini. To enable the page flip effect on the iPad, please ensure that the PDF pages' height is greater than their width.
Recommended Video format for 3D Issue
For the best compatibility and reliability we recommend using MP4 Videos using H.264 encoding and AAC audio.
If you have been provided with other video formats and wish to convert the video there are a number of free and reliable solutions that can do this.
Two notable options are:

1. Freemake Video Converter: http://www.freemake.com/free_video_converter/
Simply add your video to the main screen then press "to MP4" along the bottom. For the output option simply use same as source and confirm that it is using AAC audio and H.264 video via the readout on the right highlighted below: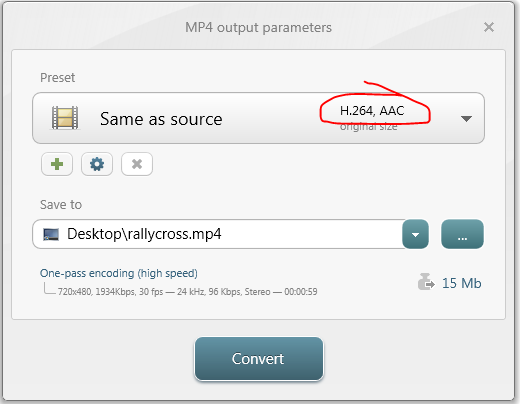 2. For Mac Users Miro Video converter is a great option. http://www.mirovideoconverter.com/
Simply use the iPad format to get a properly encoded MP4 file.
The iOS and Android Apps explained
The iOS and Android apps that come with 3D issue are designed to download your online publication to your reader's tablet or mobile device.
The apps themselves are already added to the applicable App stores and are not customizable from within the software. 3D Issue does offer a custom branded app service, but this is a seperate service, and is not part of the 3D Issue Lite, Pro or Enterprise packages. More information available on this here.
For the apps to work a few things need to be in place on your server.
– Your publication must be uploaded
– A library file must be set up on your server
– And a reader must be viewing the publication on an appropriate device!
Supported devices / Operating systems list;
Almost any touch screen mobile device with a HTML5 browser can view the publication online. However the apps will only be available on devices with:
– iOS 5 and above
– Android 2.3 and above
Making the publication available on the apps!
There are two methods of uploading 3D Issue publications (as most users know). By using the included FTP upload module (Upload section of the Output tab), via your own FTP or file transfer solution.
We're going to cover both here, the first part will be for the built in FTP uploader and the second part of this article will be for the manual uploaders.
Before we get started there are some terms we should make clear;
Library file – refers to a file called library.xml. This is a file that must be on your server for the apps to work. It's similar to the older "pageflip-archive.xml" from previous versions of 3D issue, but with some modifications.
Publication – refers to a collection of issues.
Issue – a single issue of a publication. For instance a magazine will have a monthly issue!

The Basics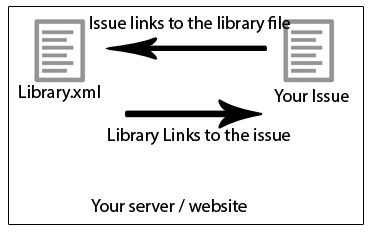 As mentioned before, for the apps to work you need a library file and an issue on your server, as shown above.
This is taken care of by 3D Issue if you are using the upload module. If you choose not to use this you'll need to make a library file yourself.
Option 1. Uploading with 3D issue.
1. This assumes you've already gotten your publication ready and are ready to click build and upload!
Start by going to the Output tab of the software. On the left side of the window is the "Upload" Section.  Check the box beside it then click the "Add" button.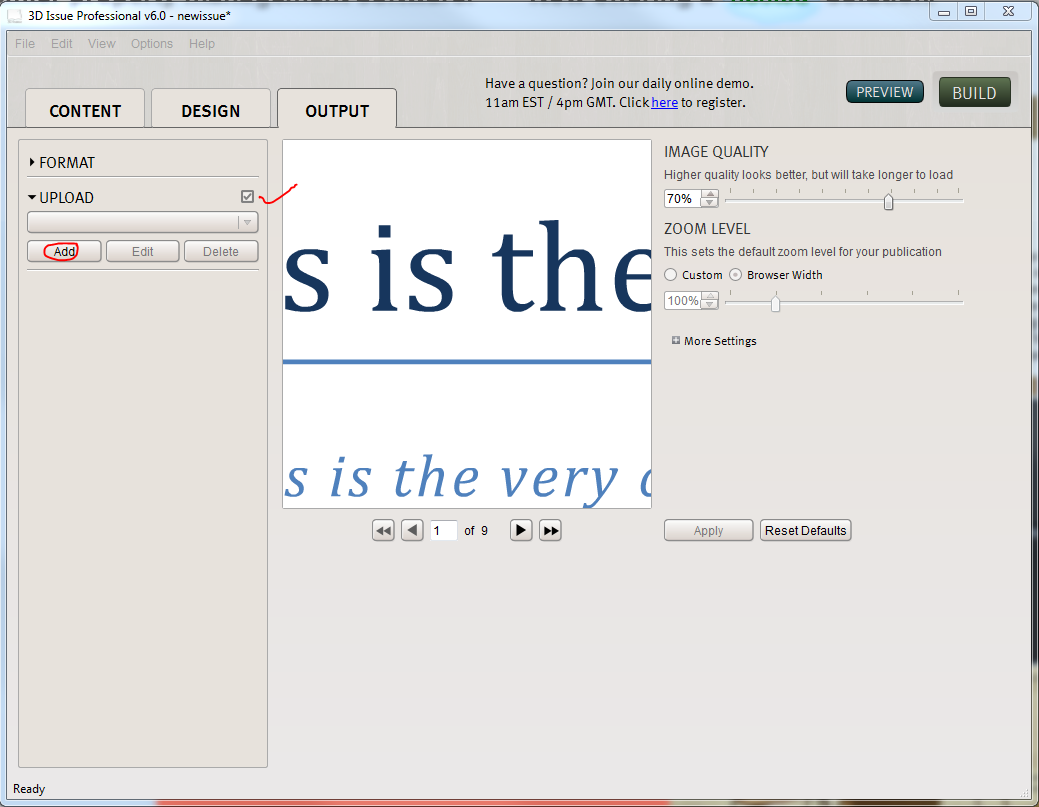 2. In the Window that opens there are a number of options;

Name – You can add anything here, this is simply for you to identify the upload profile
FTP server Address – This is the address of your upload server
Use FTP login Details – Check this if you need to login to the server
Username + password – the details needed to login to your server (these are obtained from your webmaster or Server admin or Hosting service)
Advanced – unless specified by your server admin / host you can leave the options in here alone!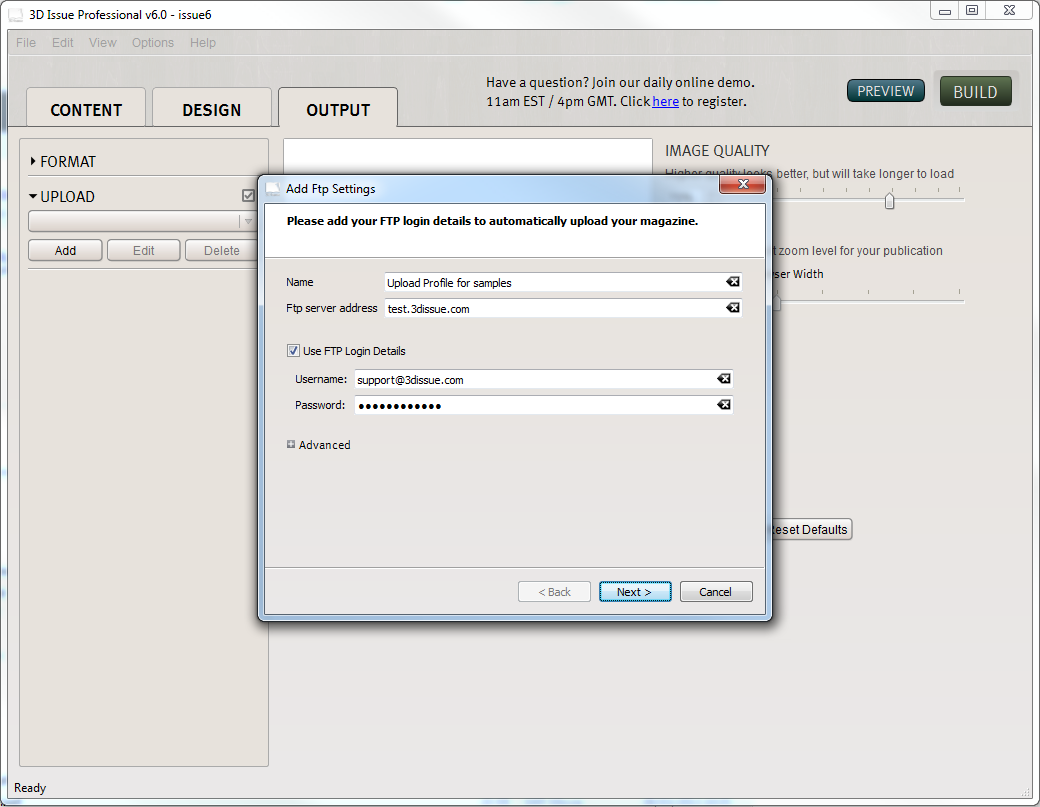 3. When you've entered your details, click next.

In the new area you can see all the folders in your server etc. Navigate to the folder you wish to use for your publications and double click it to enter the folder. This is important as the software uses the folder you are currently in – rather than the one selected.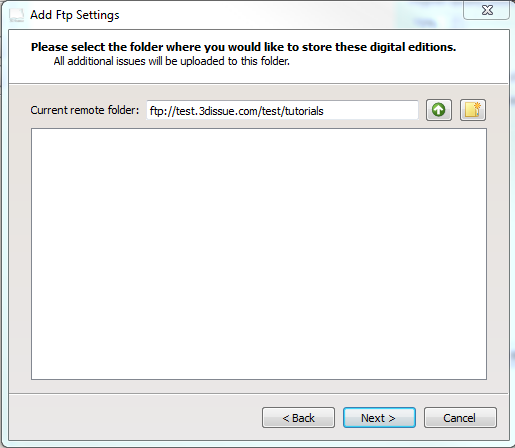 4. Click Next.

In the next page it will look the exact same. This is the location of the Library file – it's a simple xml file that tells the software about past editions. It also is used for the 3D Issue Apps on Android, iOS, Windows, Mac and Facebook. We recommend taking the default but you can change this to suit your needs.
Click next when done.
5. In the final page of the FTP Wizard you'll see two white text boxes. These are editable.

If you have used an IP address for your FTP server, or have a hidden folder such as wwwroot or public_html you'll need to edit these.
In our example in the screenshot below we've edited out "test/" in the Issue http address, and highlighted the change in the library address so you can see what we did. "test" is a hidden folder so we have to remove it as it shouldn't show in our web address. Both addresses should be the same.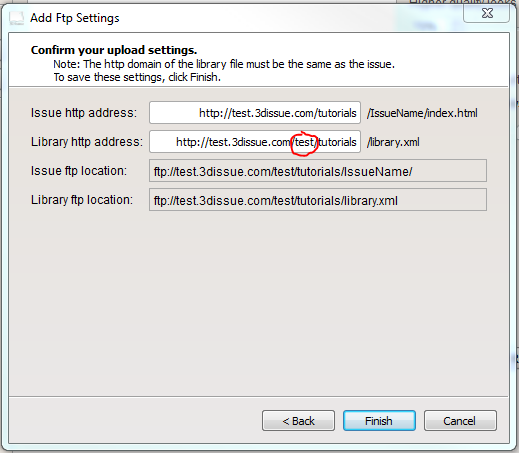 Once done click finish. And if you are ready to upload click build!
Option 2. Uploading Manually.

Read through these instructions before ever clicking build in 3D issue if you are intending on manually uploading. The reason for this is to ensure none of your publication files get mixed up or damaged.
To manually set up the Version 6 library file:
1. Decide where you will upload the library file, this location should be persistent and not need changing often. We'll create this file later when we have a version 6 publication to upload.
The URL for the library file must be similar to; http://your-website.com/blabla/library.xml
If the URL does not contain "http" or "library.xml" it will be considered invalid.
2. When you build the publication in 3D Issue, the software will ask if you would like to specify a library location. The address you enter here should be the exact address of the library.xml. This embeds the location of the library into the publication so it will always look in that location.
3. Once you have built the publication you will probably upload it to your server. The address of the new publication needs to be added to the library.xml and uploaded to the location you specified earlier.
Attached below is an example library file.
If you have 3D Issue version 6.1 or newer, you can create and edit local library files by navigating to the application's "Library" top menu and choosing "Create New Library…". You will be prompted to save the file somewhere on your machine and once saved, you can edit the contents of the library file within the library editing interface in 3D Issue instead of manually creating it as described in step 4.
4. Simply open the library file in a text editor such as notepad, and edit the library title line to suit your needs and edit the publication line to match your own. Repeat the single publication line to add further publications. Remember that the text you put into the sTitle field must match the name you gave to the issue when saving it. The publication title should match the name you gave it in the SEO section of the template.
So with two issues the library will look like this:
<?xml version="1.0″ encoding="UTF-8″ standalone="yes"?>
<menu>
<item sTitle="PUBLICATION TITLE" sURL="" sDate="">
<item sTitle="ISSUE 1″ sURL="http://www.3dissue.com/magazine-samples/3dissuedemo/index.html" sDate="2012-12-13″/>
<item sTitle="ISSUE 2″ sURL="http://www.3dissue.com/magazine-samples/google/index.html" sDate="2012-12-16″/>
</item>
</menu>
If you were to have two differently named publications in the same library it would look like this:
<?xml version="1.0″ encoding="UTF-8″ standalone="yes"?>
<menu>
<item sTitle="PUBLICATION TITLE 111″ sURL="" sDate="">
<item sTitle="ISSUE 1″ sURL="http://www.3dissue.com/magazine-samples/3dissuedemo/index.html" sDate="2012-12-13″/>
<item sTitle="ISSUE 2″ sURL="http://www.3dissue.com/magazine-samples/google/index.html" sDate="2012-12-16″/>
</item>
<item sTitle="PUBLICATION TITLE 222″ sURL="" sDate="">
<item sTitle="ISSUE 1″ sURL="http://www.3dissue.com/magazine-samples/3dissuedemo/index.html" sDate="2012-12-13″/>
<item sTitle="ISSUE 2″ sURL="http://www.3dissue.com/magazine-samples/google/index.html" sDate="2012-12-16″/>
</item>
</menu>
5. Once you have made your changes to the library file upload it to the location specified earlier.
6. You can test if the library file is working correctly by attempting to download the desktop reader version or download the publication from the iOS or Android app.

That wasn't so bad, was it?

If you've followed these instructions perfectly you should now be able to download your publication to the app on your device. Simply load the publication online. When prompted click view and you'll be brought to the app store to install the app. Once the app opens you'll be asked to go back to the browser can click refresh then view again.
This will only happen the first time the app is used. Each time after, the app will open and download the publication automatically.
If things go wrong, go back and follow these steps. Remember that most of the time the problem is caused by a small error along the way. Feel free to email us at support@3dissue.com to diagnose any issues you are having. Providing links and detailed descriptions of what is happening will help us help you!
The videos I add are not playing
There are a few common problems that cause video not to play. These are the most common causes of video playback issues:
* The video codec – Web browsers are temperamental when playing videos. Often a video will play fine on your computer but play in a web browser that supports that format. It all comes down to how the video was made. The most ideal video format possible, to support as many browsers are devices as possible is MP4 video files, using H.264 encoding and AAC audio. MOV files are not recommended as they have incredibly poor support in devices and unreliable encoding.
* Video size – As silly as it sounds, if your video is too big the problem may simply be that it is downloading fully before playing and is so large that its take a long time to download. Keeping the size down should help with that.
* Server MIME types – A problem we have started encountering more and more in recent months are servers that do not have MIME types configured for different video formats. The problem mostly occurs with IIS servers and MP4 files. If you have your server admin check that the server is configured for videos you can rule this out.
* Video bitrate – We would recommend keeping your video file's total bitrate as low as possible to keep the file size down and also accommodate end users with slower download speeds. 1500-2500Kpbs video bitrate should be fine for most users.
If you feel you've tried each of these to no avail, then contact us at support@3dissue.com and please include the video file or a link to the publication online to ensure a quick resolution.
What is the Ad-Spot feature?
The Ad-Spot feature can be found in the Interactive menu of the Design tab in the Flipbooks application and allows you to place an invisible hotspot on a particular page.
You can specify an image file (.jpg or .png) to display in a pop-up fashion once a reader lands on the page where the Ad-Spot is placed. This can be useful for placing adverts on your flipbook pages. The ad can then be closed by clicking outside the pop-up image or by clicking the "X" exit button on the border of the Ad-Spot image.
You can also specify a weblink for your Ad-Spot so if a reader clicks on the image they will be directed to the URL you specify. For example, this could be the advertiser's website.

Only 1 Ad-Spot can be placed per magazine spread.
What is the purpose of User Login?
User Log-in Feature
With the user login feature, you can control access to your magazines for your end readers.
For versions 6 – 6.2, simply select "Users" from the top menu and select "Manage Users…" and log-in using your 3D Issue account credentials.

Since version 6.3, the location of this option has changed. In the top menu, "Manage Users…" is now listed under "Portal".
You can set up groups and add users to groups with login details (usernames and passwords).
There is now also a "Issue Names" field available when creating a group. This allows you to give the users in a group access to only particular issues. Please enter a comma separated list of issue names. Only these issues will be protected then by this group.
If no issue names are entered, all publications for the chosen template(s) will be protected.
(e.g. https://www.3dissue.com/magazine-samples/3dissuedemo/index.html – 3dissuedemo is the issue name and the issue name should be specified only – not the full URL)

Groups will then be assigned access rights to view publications made using specific templates.

If you enable the user login feature for a particular magazine, the end reader will be prompted to enter their username and password to gain access.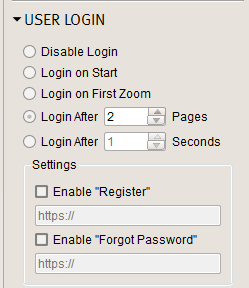 When they enter a username and password these will be sent to our template server and checked to see if the user belongs to a group that has access rights to read that issue.
You are now able to specify the individual issue(s) a user group has access to with the introduction of the "Issue Names" field:

This lets you further specify what users have access to which issues.
What is the Shopping Cart?
The shopping cart tool allows you to plugin your existing online store into your 3D Issue publications. You can place shopping cart hotspots/buttons on your flipbook pages on the Design section and once placed on a page, you will be prompted for the product page URL (URL of the item in your store) and also the shopping cart/basket URL (basket URL on your site where added items can be viewed).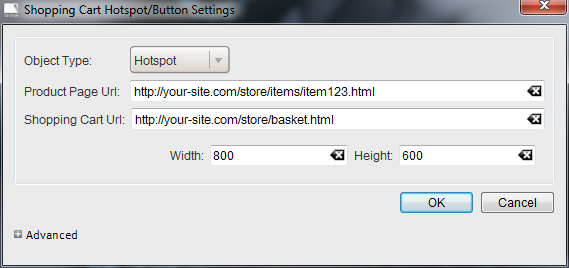 Once a user clicks on one of the hotspots, a web view window will appear with the associated product page displayed within. Here the user should be able to add the item to the cart/basket. Once a shopping cart button or hotspot has been clicked, an icon will display on the top right hand corner of the flipbook that the user can click on. This will take the user to the Shopping cart URL where all items added are visible.
What part of a YouTube URL do you paste to embed videos in 3d Issue?
You can add YouTube videos to your flipbook publication by following these steps:
– Open the design tab in the flipbook software
– In the Interactive element panel, click the embedded video button and add the video to the required location on your page.
– A menu will pop up. In the video text box, enter either the YouTube video URL (e.g.https://www.youtube.com/watch?v=rR12J-VVJg0) or simply add the YouTube video ID (e.g. rR12J-VVJg0)
Why does 3D Issue add a blank page to my flipbook?
A blank page is added on to the end of your flipbook if the publication has an odd number of pages. Each flipbook needs a front and back cover so if an uneven number of pages is detected, an extra blank page is inserted to act as the back cover.