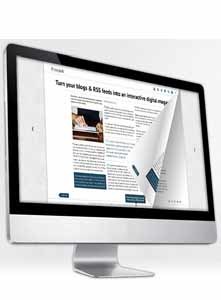 We have some very exciting news! Customers and readers of our blog will have heard us talk about a new solution for publishing that we have been working on – 3D Issue Hubs.
3D Issue Hubs is an online application that allows marketers and publishers to create dynamic, digital newsletter publications from their existing content; without any specialist design or programming skills. Within just a few minutes users can transform a blog, RSS feed or email content into a digital newsletter that can be distributed and viewed by readers on tablets, mobiles and desktops.
Today sees the latest release of Hubs available here and with this release comes some brand new features.
You can try this out today and create your very own digital publication. Simply head over to Hubs and hit 'Create a Hub'. You will then be able to login and get started.
The new interface has been redesigned to make the creation process more straight forward than ever.
–          Select 'Create publication'
–          Give the publication a name, logo and select where your content is (blog, website,
feed, email contributor)
–          Publish!
You then get a link to view and distribute your digital newsletter.
If you want to get a bit more creative you can apply a color theme, add multiple content sources, add/remove articles and even customize a front cover page.
There are plenty of other features being worked on too which will soon also be available. In the future users will also be able to view statistics and reports to discover their readers' interests, the publications success rate and how many views the publication is receiving.
We'd love to hear how you get on with the new application, any feedback is welcome please drop us your thoughts at support@3dissue.com, or leave a comment below.