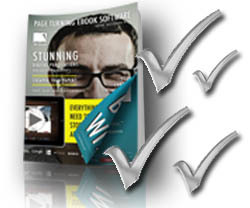 You have been busy with many elements to consider and finalize before launch. We want to give you a quick checklist of all the essentials you should check before your digital publication goes public. Take the time to have a double check. With new instant forms of distribution – your digital magazine can be global in seconds – not a good time to spot a typo, or a missing link.
PDF – Be aware that 3D Issue is compatible with every PDF publication. Yet it is suggested you keep vector-based images to a minimum. PDF's with large quantity of vectors cause issues with Adobe Flash, and may not render properly. In the occasion that a publication contains too many vector based images a warning will appear to advise you of this error.
Video – Check all your videos are  playing the way you expect them to. For the best compatibly and reliability we recommend using MP4 Videos.
Links – Check all hyperlinks throughout your digital publication are connecting to the correct urls. Don't forget to check the ones you may have added on the front cover, contents page or back cover. And any you may have in banners or the intro section. Also check any hyperlinks you have added to buttons, images, etc.
Logo – If you can get your designer to match your logo and background image do so. It will look better if the background color in your logo matches the skin background color. Or get your Logo as a PNG with a transparent background, so then any almost any background will suit.

Sound – Listen to your publication – if you have added any audio now is the time to ensure it plays as you expect – be it as a page turn sound or a sound snippet you have added. Check it stops and start as you have specified, or if you wanted the continuous play option check that is in place.
Check browsers – Be aware of the best internet browsers for viewing HTML5 publications. The only requirements are that the reader has a web-browser with the latest version of Adobe Flash installed. Most readers should have this setup already.
App – How many of your readers would prefer an App? You can create publications, upload to your own website and permit your readers to download the web app via your own site.
Devices – iPad, mobile – have a look : Check what your audience may be using. 3D Issue works on all devices. Tablet and mobile devices will automatically load the publications in HTML5 and do not require any additional plugins to work.
Viewing Offline – The offline version opens as a mini-program as it is an executable file that will load a flash publication on your computer.
We hope you have every success with your publication. If you would like any more information all questions and answered are stored in the 3D Issue knowledge base. 
By Audrey Henry