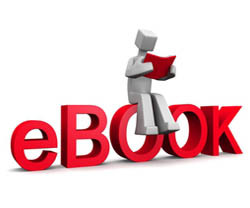 It was only yesterday I wrote a blog concerning how eBook sales are continuing to increase, so, with this fresh in our minds, in today's blog we will look a little closer into the strategy you should be considering concerning your eBook and the methods involved behind the scenes.
No matter whether you are a first time self-publisher or an established author there are certain elements to keep in mind in regards to your eBooks strategy, this is a market with huge potential but like everything there is a way to approach the strategy involved in your eBook's background and assembly.
Set up a website
The majority of eBooks are sold through Amazon, Barnes and Noble, Apple and Google Play among others but the one mistake a lot of eBook authors make is not setting up a website dedicated to their creation. This eBook strategy will act as a landing page for your publication, a sales page if you like, this page will be dedicated your eBook only and should include any testimonials and a short list of why your eBook is the one that the consumer should download. This landing page should also include a 'buy now' button that will lead the consumer to the location where your eBook resides.
Build your own email opt in database
Your website should include an opt in for interested consumers to be kept up to date with any fresh information or content that you supply. It is your goal to solve the audience's problems or answer questions that interest them, by doing so you will build an audience who trusts your content and in turn will regard your eBooks with respect and raise the chances of them actually purchasing your publication.

Use blogs to market your eBooks
Blogging employs a similar strategy; blogging is a fantastic resource for actually engaging with your audience, when an audience visits your blog they can comment and ask questions, this is a great opportunity for you to reach out and make meaningful connections with your audience. You can also post your blogs to social media sites widening your reach and raising your chances of engagement.
Integrate your social efforts into your eBook strategy
There are many social media sites at your disposal, why not utilize them? The main players are, broadly speaking, LinkedIn, Twitter and Facebook, it is of course possible that if you are in a niche market then there are other social media sites which work better for your particular niche. These sites can be used to pitch your opinion, share ideas and partake in discussions among like-minded individuals. This strategy will often result in increased traffic to your site and blogs, this traffic will be of a premium standard as it will be consumers with an actual interest in your publications and musings.
Is the creation of an eBook something you wish to test out for your publications?
Why not try the free, fully functional trial of 3D Issue and see for yourself the advantages of publishing eBooks will bring to your publications.