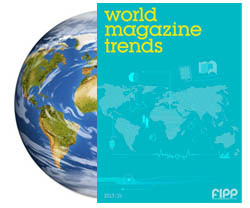 In today's blog we will be examining FIPP's World Magazine Trends 2013/14 and seeing what the predictions for the year ahead may hold for magazines based on data collected from the year just passed. The 444 page survey, which covers more than 50 countries, reveals key data on a global, regional and country by country basis. It also includes magazine circulation revenues, share of adspend, number of magazine titles, copies sold, revenue sources and sales distribution breakdown.
Digital figures include internet penetration and mobile penetration as well as e-reader and magazine website listings where applicable. The survey states the internet is still the fastest growing medium for advertising with a 16.3% surge since 2012 and a prediction of, (on average), 15% growth from 2013 to 2015, it also outlined the rate at which internet advertising is set to flourish when it said; "The prediction is that Internet advertising will increase its share of the ad market from 18.4% in 2012 to 24.6% in 2015 and that Internet advertising overtakes newspapers for the first time in 2013, exceeding the combined total of newspaper and magazine advertising in 2015."
It also goes on to highlight how it expects print editions of newspapers and magazines to continue to contract on an average rate of 2-3% a year based on data from ZenithOptimediaagency. Digital revenue, as expected has seen substantial growth with a rise from $8.2 billion in 2012 (8% of market share) to an expected $15.2 billion (15% of market share) in 2015 according to PriceWaterhouseCoopers who also made contributions to the survey. "This development is the same for both B2B (business-to-business) magazines (around 20% share of total revenue) and consumer magazines," it added.
The survey also revealed that many publishers have invested to a great degree in the creation of an online presence through traditional display advertisements which made up over a fifth of total internet advertising. One trend that was widely expected and appears within the report is that mobile advertising is one of, if not the fastest growing internet channels with a colossal $33 billion spend by 2015, a quarter of all internet advertising expenditure according to ZenithOptimedia.
The future of magazine and the ascendency of mobile
In the year just past, mobile advertising expenditure had grown a mammoth 77%, this was up from 9% of total internet advertising to 15%, resulting in a $14 billion dollar spend in this rapidly evolving segment
The FIPP report also contained some rather surprising data pertaining to print media in developing economies such as Africa and the Middle East where print media still retained a strong vantage point, "Since 2011 revenue grew 7% and will continue to do so in the coming years," it said. "In 2015 total revenue will have grown to $1,886 million, a 17% increase compared to 2012." The survey also reveals that while digital is growing in Europe it still trails the rest of the world by a considerable margin in terms of the compensation it generates to offset print losses

The study predicts that magazine revenue will decline by around 6% in the years ahead, roughly 1% per year, the hope being that the digital age through the adoption of mobile, tablet and internet would help to bridge the widening gap, "The biggest challenge will be to compensate the inevitable losses of print revenue and to find ways to increase digital revenue in terms of absolute numbers," it said.
The information housed between the covers of this extensive survey reaffirms what we have known all along, digital is integral to publishers and media houses alike, indeed all businesses should be endeavoring to create and maintain an online presence; the world is online, this is a trend that is going to grow at an exponential rate and is showing no signs of slowing down, in fact quite the opposite. In today's cyber connected world it is crucial for businesses across all industries to have an online presence, the internet is the biggest marketplace of its kind, why would you not want to expose your business to this fantastic resource and all the opportunity that it will undoubtedly supply?
The infinite possibilities of the internet
The internet empowers us with a reach so vast that previous to its inception would have been simply unthinkable, the internet enables your business to be seen and accessed across the globe, you simply have to have a voice within this chasm of opportunity. The biggest marketplace the world has ever known is in pockets and handbags around the globe, it is essential that you are part of this landscape, to fail to do so is to fail to cater for your businesses best interests. You wouldn't turn down the chance to open a shop in a well thought of area which would attract custom so why would you turn down the chance to be involved in the biggest shopping market the world has ever known?
There is no palpable reason that print and digital cannot live together, one can complement the other, support each other, create a mutual future for one another. One doesn't need to dominate or replace the other but there is a case to be made for branching out and exploring the global opportunities that the internet presents every single business with. The survey outlined above supports this viewpoint with hard facts and figures, it also alludes to the fact that company's adoption rates of this, the ultimate of resources is surprisingly slow.
It's no secret that if there are two identical businesses but one doesn't have a presence on the web then this business will be significantly weaker than the other in terms of reach and discoverability. The FIPP survey highlights many mitigating factors that should serve as timely warning for any business who is yet to transcend their presence to an online home, the figures show that as we become more of an online society the print figures will unfortunately suffer but this doesn't mean that we can't take a positive from a negative. We have to react to this and pivot our approach and place ourselves and our business where the eyeballs are, and ultimately that place is online.
Try 3D Issue content hubs and a fully functional trial version of 3D Issue today.