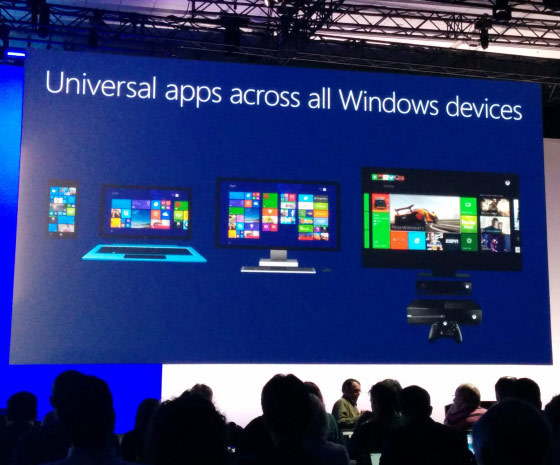 Microsoft is in the news this week and certainly under the tech spotlight again, but this time with good reason. Emerging news is that although Windows 10 won't probably launch until Autumn, app developers are already thinking about developing apps for the future release. The rate of preparation and speculation is fuelled by the release of information this Tuesday from the now famous Windows 10 event in Redmond, Washington.
Details of Microsoft's future releases for 2015 did not fail to impress.
The prospect that the same app could work for mobile, tablets and PC…is an exciting news, and in a short space of time may become a reality.
This will see more developers develop more apps for Windows as it's easier to be on all systems. The new concept means creating one app and not having to worry that it won't be suitable for desktop, mobile and tablet.
This will also mean a boost for the Windows mobile phone which in the past had failed to become a major player in mobile market share. Watch out Android and iOS as a new competitor with big promises is stepping up to the plate!
Windows is certainly trying to take a big bite of the apple and emerge stronger than ever from the Windows 8 disappointment.
After the event Information Week reported that Windows 10 will include:
"Seamless integration of Windows devices. Users will be able to transition from PC to tablet mode on hybrid devices by removing the keyboard and mouse."
More of Windows 10 promises include:
A focus on security and privacy protection for business and consumers.
They will be giving free upgrades to Windows ten to attract new users. (apparently just to Windows 7, and 8.1 users for the first year only)
One adaptable operating system across phone, tablet, computer.
For many years now we have been hearing about the development of the Windows Universal App.
Apps that can be written once and run on a wide variety of devices. Now with Windows 10 it will be here in the near future.
Windows 10 apps also promise to have Xbox One integration and work with Windows Holographic in the future. The truly futurist platform works in conjunction with the recently publicized HoloLens headset.
Exciting times! Watch the space.
By Audrey Henry