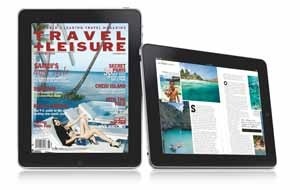 This blogs aims to provide some of reasons why digital catalogues and e-magazines are likely to become the future of digital marketing.
Nowadays, digital marketing tools have become a relevant part in the strategy of different business sectors. New Media Trend Watch reports that according to the research firm Deloitte '86% of overseas and 91% of domestic travel transactions in the UK are now 'digitally influenced.' One of the key findings reveals that the traditional glossy brochure was expensive to produce and as a result the travel industry has opted in for the e-commerce strategy. Thus, a digital brochure can cost-effective and an effective marketing tool when it is properly implemented. Another important factor is the possibility to use interactivity features to enhance the readers experience while still providing them with the look and feel of a print catalog.
In our blog section we have also discussed the growing number of well know companies launching their e-magazines and abandoning their print versions. The potential of reaching a wide audience and satisfying the changing needs of the target groups are indeed some of the most important factors to use this tool.

As a result, we can conclude that companies seeking to fulfil their goals will certainly consider the benefits provided by digital brochures and e-magazines as tools to build a relationship with their customers. The rapid development of brochures and e-magazines as new trends emphasize the need to integrate these tools in your future marketing strategies.
If you are interested in getting more information on creating digital brochures to reach your target audience, download this free material on Marketer's guide to creating interactive brochures from our resource section. We also have a step by step guide on how to create digital brochures on our blog section.

By 3D Issue