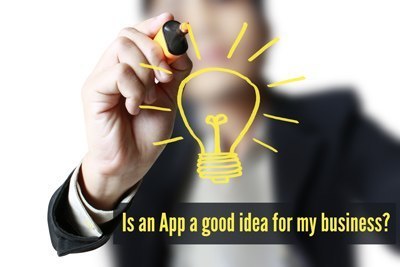 You may have heard about how important apps are. Everyone is getting one for their business – even small companies. In fact a new study suggests that 15% of small businesses have mobile apps and 18% of the rest will create one in 2015 or later.
There are lots of reasons why you should create an app for your business. Here are just a few of them:
1.Visibility
If checking your smartphone for messages and doing a little browsing through your apps is not the first thing you do in the morning, it's probably something that you'll do before you leave home for work. I know I do. And that's not all, how many times do you check your phone during the day and browse through your apps? Exactly, quite a few. If you had your own app and got your customers to download it, they would be seeing it every time they went through their apps. They may not open the app all the time, but they will see it and your brand will be imprinted in their minds.
2.Promotion
An app is a great channel to promote your product, your services and your brand. Create an app that is well organized and clear. Have you ever tried browsing an online shop on a mobile browser? Even if the site is mobile friendly it usually involves a lot of pinching and zooming. An app is more straight-forward, no need to type the URL either, just tap on it and the app opens. Include videos, photos, coupons and special promotions under different sections. Your users will find what they're looking for right away.
3.Customer Service & Support
Having an extra channel to get in contact with your company makes the lives of your customers much easier. They will know that in the event of a problem, support is only a few taps away.
4.Make money
If you create content online but don't have a way to monetize it, you're in luck. An app offers you a great variety of new opportunities.
1.You can create a paid app or a freemium app. A freemium app usually involves a simpler version of the app for free, and an extra charge to access some extra content.
2.Include mobile advertising such as banner ads or interstitials (ads placed at entry or exit points of an app) for example.
3.Subscriptions are a great source of income for those that deliver magazines or newspapers under a paid plan, as you could restrict the customer's access with a user login.
If you are looking to create an app, but don't know how to start, have questions or need help, email us at info@3dissue.com.
By Carla Rucián