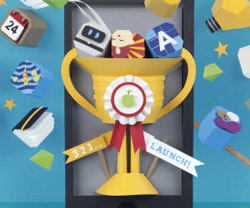 A question that every app developer out there asks themselves. If you're running an online business and you decide to have an app, you should start by asking yourself the same thing. Making an app successful consists of both implementing pure logic into your decision making process and the overall simplicity of your marketing strategy. Confused? Read on and you'll see what I mean by this:
You must have a promotional strategy
Creating a mobile app is only the first step of your journey. Many app developers focus their efforts only on the production phase. The truth is there are more than 2 million active apps, so just having your app published won't make it an instant success.
Start building your online presence through content and marketing campaigns before your app sees daylight. You can't expect to reach 40 million page views after your publish your first blog post. Here's how a startup app got acquired by Google by using a very detailed expert outreach tactic.
Track and improve user experience
There isn't a single successful app out there that hasn't gone through some tweaking here and there since it was first launched. In fact, what makes an app successful is a constant improvement steered by users' behavior. Pay attention to which features are the ones your users are using the most and check if they are behaving as you would have expected them to.
One of the best ways to track user engagement is to choose an app platform that integrates analytics within the app. Google Analytics is the most popular one, however there are other tools like Flurry by Yahoo available too.
Available across all platforms
There are cases when it's better to just publish for one platform, but if you have already built a loyal audience across multiple channels, you should offer your app to everyone no matter their mobile device.
Focus on a "small" market
Some of the current biggest apps on the market started their journey outside The US. There's simple logic behind this. According to Avid Larizadeh at Forbes, you'll need 30 times more installs in the US compared to other significant markets to reach the top 25.
Don't think about profits when you start
At the beginning is better if your app is free. Even if you build an app for your digital magazine subscriptions, the app should come at no cost to your readers. It will be easier to monetize your app later on when you have an established audience.
Instead of making $1 per new user, focuse on growing your user base so you can convert most of your readers into buyers and build a strong relationship with them. Imagine the number of apps that haven't succeeded just because they were asking for $0.99 from the very beginning when no-one really new them. It's difficult for people to trust something they don't know.
Simple, welcoming and addictive
If you're looking for a magic formula, this is probably the closest you'll get. Make your app as easy as one-two-three and as addictive as Facebook or Snapchat. It sounds easy, but it really is not, many have tried and failed. Your target user should be able to open the app and know how it works right away, no headaches, no help, everything should be intuitive and to the point.
Now that you know what makes an app successful, it's time to build a fully customized mobile app for your business. Check out our app builder and all the pieces of the puzzle will come together.