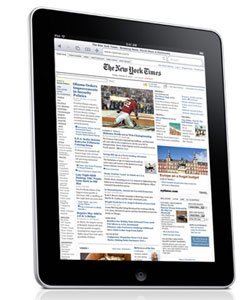 One of the most well-known newspapers worldwide, The New York Times has been trying to reach its audience allowing them to access to their publication in a new way – through mobile and tablet devices.
Has this strategy worked for them?
According to a recent report, it definitely has.  The Time's Director of Mobile Products, Alexandra Hardiman pointed out that 'more than a third of all traffic to the newspaper comes from a mobile device'. The report asserts that mobile has become a key part of the paper's business. Moreover, they are also focusing on cross-platform usage to reach their readers more effectively. According to researches, tablet use is high in evenings; a time of the day that papers struggle to reach readers, so using tablets could open a new door of opportunities for the company. Hardiman emphasizes that 'Tablet and smartphone access is also a key element of The Times' digital subscription model'

The New York Times has also integrated apps in their digital publications. Thus, they have recently introduced an HTML5-based web app to complement its native apps. Moreover, they also have Android apps and just launch a Window 8 app. According to Hardiman, some of the key elements taken into account in the process of incorporating apps (native and web) were the following:
-The paper worked closely with the OS provider to make sure that the native app fits the specific user experience as well as possible
-The HTML5 allowed them to explore ideas that might be too risky for native apps
All of these efforts to reach its readers indicate that one of the main goals of the newspaper is to 'be where people are', and results show that they are going in the right direction as there is an increase of 11% in their paid digital subscribers. This report shows that it is essential to know where your target groups are and how you can meet their current needs. If you are interested in the new digital trends and how you can incorporate them in your publication, please e-mail at sales@3dissue.com
Image is from the nice folks here.
By 3D Issue