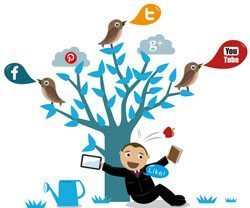 Content has evolved over the past decade from a text-orientated Internet environment to a multimedia platform where different types of content coexist and work together towards the achievement of a shared goal.
The role of content in today's marketplace
In a market where dozens if not hundreds of brands compete for a piece of the same pie, you need to convince your potential customers that your product and brand are the right choice. In order to do that, differentiating yourself from the competition becomes essential.
Thanks to the Internet and the phenomenon of social media, the world of marketing is switching from outbound or push marketing to inbound or pull marketing and the content you publish has a lot to do with the process.
Content you create
The content you create should always be customer orientated. What I mean by this is that it should improve the user's experience, deliver additional value and engage them.
To achieve this you'll need more than a blog and a couple of product pages that you share on your social media channels. Don't get me wrong, those are excellent choices, but having all your content arranged in one place will give you better results.
If you publish videos on YouTube, articles on your blog, tweet often or have a digital publication publication for example, it will be easier for your readers to scan through every post and select which articles and posts they want to see if everything is in just one place. This will also help your bounce rate, as readers will stick longer reading about your brand too.
Don't ever forget though that the content itself is important too. Do your research, pay attention to your statistics, to the data you gather through your publishing platform and decide which type of content resonates with your audience. Maybe they prefer videos, or maybe they are more into your blog posts, do they like more in depth articles or the ones that are short and to the point? Which are the post that get more likes and shares? Which generate more comments?
Use that information to tailor a powerful marketing strategy that will give you better results.
Content others create
What if for some reason, you don't create enough content yourself. Let's be real, not everyone has the resources to create a lot of content every single day.
When that's the case, the use of a content aggregation platform is the answer. These type of platforms allow you to combine your own content with that created by others.
Try to look for the content published by the leaders in your market, try to find out what sites related to your industry and your products, your customers visit the most and add their content and publications to your publishing platform.
If you have an active community, you can even invite your readers to contribute with their own content. Give a few of them email access to your platform so they can directly publishing on your platform my sending an email. That will make them feel as part of the community.
Be creative
Web publishing is a creative business. With the amount of content published on a daily basis, you need to stand out.
You need to do something different, something that others haven't done yet and that the public will like. Never stop thinking about new forms of content, don't get comfortable and always try to look for new things and goals.
If you want to start creating your own publishing platform today, you can start by trying 3D Issue Hubs. For any comments or questions, please email us at info@3dissue.com
Written by Paul McNulty
Paul is the founder and CEO of 3D Issue