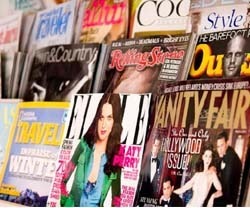 If you are interested in one of the best ways to facilitate e-commerce for your digital publications a good approach is through an engaging sample 'system' by this we mean a good place to start is by providing your readers with magazine samples.
According to this article 'magazine publishers are rapidly getting serious about ecommerce' and as a result, magazines such as 'Time Out' New York, 'Time' and 'Elle' have introduced different systems to provide readers with the opportunity to purchase online.
In what ways can magazine samples increase the probability to increase your sales?
First of all, digital readers tend to look for a quick way to get to know your publication and then decide if they are interested to get more information, and finally purchase your product; as a result magazine samples can be considered as one of the best ways to introduce your product offering to the digital consumer.
As a result, it is essential to present your sample in such a way that it can effectively capture the interest of your target audience and motivate them to purchase the product. Invest time to provide your readers with the kind of presentation that will enhance your product offering; providing them with a clear concept on the main points of interest.
Another key point has to do with providing your readers with accessibility to view your sample on any device, anytime, anywhere. 3D Issue software allows you to reach your target audience in different platforms. Take into account that in order to reach the widest audience possible, it is relevant to consider the accessibility aspect. Finally, when creating your publication make sure that the design suits the different devices used by your readers.

If you are interested to know more about the benefits of providing your readers with a magazine sample, drop us an e-mail at sales@3dissue.com and you can also check out our magazine samples in our web site and view the publications on different devices in order to have a clear concept on what a quality magazine sample can do for you.
Image thanks to the nice folks here.
By 3D Issue