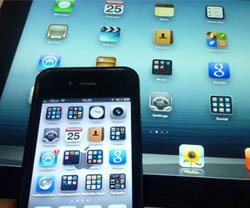 In the past few years, it has become increasingly relevant to be able to view your digital magazines on a variety of touchscreen devices. Thus, readers have adopted the new habit of consuming information via tablets and mobile devices and the trend has been growing steadily according to experts. Mashable.com asserts the 'The Touchscreen technology is nearly a staple feature in mobile devices'
What is the touchscreen technology?
The touchscreen technology is described by Mashable.com as 'a resistive design, made of several layers, responsive to touch of a finger or stylus – unlike a capacitive screen'
Mashable.com reports that the touchscreen technology has been used in several ways:  ATM machines, GPS systems, cash registers, medical monitors, game consoles, computers, phones and continues to appear in newer technologies. The technology, however; became more useful and commercially available to a widespread audience with the introduction of the iPhone by Apple.
Who developed the touchscreen?
Some people believe that the touchscreen was developed by Apple in the late 2000s – with the launch of the iPhone. However, the touchscreen has been around for nearly half a century. Mashable.com reports that 'E.A. Johnson is believed to be the first to develop the touchscreen in 1965. The tablet was patented in 1969 and was used for air traffic control until about 1995'
The touchscreen technology has a fascinating history of constant innovation to provide users with great performance and functionality – Screens have become more receptive to touch and gestures.

If you are considering the possibility to publish your digital magazines in the mobile devices and tablets platforms; make sure to test your own content in touchscreen devices and explore this promising option. A great way to do this is by viewing your own content in touchscreen devices – so why not download our trial version to see results and clarify any doubts!
Image thanks to the nice folks here