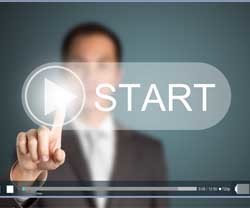 Video content marketing is an efficient and effective way to catch your target audience's attention.
According to Hyperfine Media:
• Including a video on a landing page can increase conversion by 80%.
• 87% of online marketers use video content.
If you decide that you want to include video content in your marketing strategy you need to make sure that it gets the recognition it deserves. In order to do that there are a few things you need to consider.
The advantages of video content
• You can include content without your audience feeling overwhelmed
• Provide your customers with a lot of information without them even noticing.
• Video will build a stronger trust and emotional connection between you and your customers.
• It will grab your customer's attention quickly.
• Improve SEO.
• Increase your chances of your content being shared by your friends and followers.
Your aims
If you have a clear focus on what you want to get out of using video content for your business then the likelihood of your video being a success will increase.
You need to have a clear, well-defined goal for your video.
Consider who your target audience is and what will they want of this video. Evaluate and brainstorm ideas with your team on what you want the customer to do after he/she sees this video.
Short and sweet
A short video is usually better to keep your customers attention, but it should be long enough to provide them with the information you want them to have. Look for the right balance.
Try not to over do it, you don't need to be posting a new video every week to keep your viewers, careful planning is needed.
Your content should be worth watching, so if you do decide to produce another video, take the time to create a high quality one.
Showing it to the world
Marketing your created video can be difficult and can even sometimes require more effort than it did making the video in the first place.
Distribute your new video on all your social media sites and make sure that it can be viewed on mobile devices.
Using video content in your online marketing strategy is a great chance for you to engage with your community.
It would be a good idea to open a YouTube account and upload your video there.
YouTube is a powerful, social platform with over a billion users– almost one third of all people on the internet.
This is essential for marketing if you want to reach a wider audience internationally and raise awareness about your company.
Plan and Evaluate
Now that your video has been posted and you have marketed it well, take the time to evaluate how things went for you.
What did you find difficult throughout the whole process? Is there anything that you and your team could improve
Get in touch with your customers and ask for feedback on the video and if they have any ideas on what you could change or include in your next video.
If you're interested in showing your video in a more creative way you can create an online magazine and include your new marketing video.
You can also organize all your videos and other content from your social media accounts in one place for your audience to visit in a Hub.
If you have any questions or need more information, please send us an email to info@3dissue.com