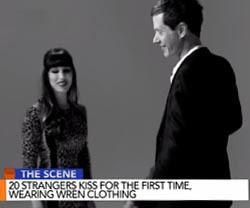 We've said it before, 2014 is expected to be the year in which video becomes the major player and the truth is that having just entered the 4th month of the year, we have already seen how powerful video advertising can be.
I'm sure that if I mentioned the "First Kiss" viral video you would probably know what I'm talking about. Over the last few weeks this video has been in the news, shared through Facebook, Twitter, Google+… well, you get the idea. Everybody was talking about it, it was exciting, interesting, compelling, and what is more important people were willing to show it to their friends.
The premise of the story itself was original enough to drag some attention and it was so well designed that it appeal to everybody. Some even described it as " a fruit salad of emotions!". However, were it not for the use of video, the impact would have never been the same. Videos can convey emotions, feelings and ideas, in a way that not even the best image could.
Yes, there was a little bit of a backlash after people realised that the video was part of an advertising campaign from the LA fashion brad Wren, but the upturn in sales since the video was launched, proves that video advertising when done it right is now more powerful than ever.
A well designed video advertising campaign creates both awareness of the brand and engagement with the customers. Customers who instead of getting the feeling of being inundated with adverts, see the video as an opportunity to receive content that apart from being eye catching is relevant for them. This transforms a marketing strategy in a "win-win situation".
Video Advertising is the next big thing that companies should consider investing in. Content hubs are particularly useful for this new marketing approach as consumers want to be informed, engaged and entertained all at the same time.
On average brands spread their message through more than 13 different social media accounts. If they had a centralised location for them, not only would they be making their message stronger but they would also be simplifying things for the consumer. And, what if in that same location apart from getting all the information they wanted, your readers could leave their comments and share what they thought was interesting?
Well, that's exactly what Hubs does by creating in a simple and easy manner a web application suitable for any desktop, tablet, smartphone or eReader.
Why don't you give Hubs a try today and take your marketing strategy to the next level.