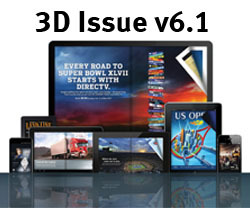 We are thrilled to announce the launch of 3D Issue Version 6.1 today. The latest update to the software enables trial users to access a fully functional version of 3D Issue to create digital magazines and e-books free for 14 days.
"We wanted to give users a real' try before you buy' experience by providing them with the full version of our software, no limitations, no restrictions.…During your 14 day trial of 3D Issue, you will now be able to create full digital publications that can be hosted on your site or pushed to any tablet or mobile device your reader chooses to consume your content on. Your readers will be able to enjoy the full experience of your digital publishing strategy while you track their engagement and the efficiency of your content "says Paul Mc Nulty, Managing Director of 3D Issue.
A new user log in management interface allows you to control access to digital magazines and e-books across the platforms you wish to publish to, be it desktop, laptop, tablet or mobile. This new user log in tool also allows you to determine when a user has to login to continue reading, for example:
–       Login when the magazine is launched
–       Login after they have read X number of pages
–       Login after a set amount of time has past

Create "skinless magazines":  3D Issue 6.1 allows you to maximize the display area of your digital editions, so you can hide other navigation options and features until a reader hovers over a predefined area.
Enhanced audio capability: audio can now be added to page turns, you could add background music to your digital editions or you can create an audio book.
Photo gallery magazines: the image gallery tool added in this update allows you to create photo galleries and slideshows within your digital publications.
Download the latest version of 3D Issue here to get started!