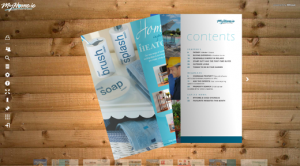 3D Issue version 5 launched yesterday and we wanted to update everyone on the great feedback we've been getting on the software so far and it only went live a few hours ago!
Customers old and new alike are really excited about the new options and the tablet versions in HTML5 in particular is causing quite the stir out there next most popular is the ePub and Mobi file preparation, there are so many new features in the software more feedback is sure to come!
As we blogged about yesterday the new release of Version 5.0 is a real step forward as the digital publishing medium begins to take what we are calling "more shape" as the first HTML 5 solution in the market for this type of software we are sure that readers and creators alike will be more happy than ever with their digital editions created in 3D Issue Version 5.0
As always we welcome your feedback and opinions so let us know how you are doing and what you guys think of the new publications and did we mention that the Nextweb wrote about us too? check out their article on our new publishing platform here from yesterday.