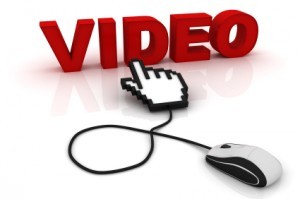 Video is fast becoming a popular way of communicating and sharing information in today's media dominated world of technology. First radio progressed to television, now print is evolving to video.  Video conferencing, video teaching and learning of information and video sharing is a common practice in our daily lives. The use of video has become as influential as text and according to a survey carried out by Forbes Insight as reported via emarketer video is now a typical method for executives to receive and share business information.
The Forbes survey results show that majority of executives view work related video at least once a week and use video socially on YouTube also.
These survey results show clearly the influence a video can have on the actions of a business executive after viewing, especially the younger executives. Marketers are quickly gaining the benefits from people watching their videos then commenting, sharing and recommending their viewable content. This highly engaging media form is often creating more 'action' from the reader/viewer that can result in a purchase.
Years ago video was just used for broadcasting. Now it can be easy and cheap to create with no expenses of lights, cameras and studios. This is why we see video making it's way into the e publishing world of digital magazine software. Page flip digital magazines are integrating video into their publications as a method of engaging with the reader. It enables interaction, collaboration, engagement and brings a magazine to life, something that cannot be recreated with a print copy. Here at 3D Issue we are very excited about customers using video as a marketing tool in their publications, you can see just how attractive and engaging video capability is in either a separate video playing window or as an embedded video in this sneak preview of our latest version.
Video is acting as a non text medium and many readers prefer to watch a video from a website than read the text format. Videos are more persuasive, offer a mass of interactive capabilities, display rich text, imagery and animation. This interactive animation in a digital magazine is an efficient, multi dimensional, visual tool that surpasses the printed ink on paper method. Video embedded print media brings a magazine to life and tells a digital story. It's another, more modern and effective path of communicating and connecting content from a variety of brands and services to the consumer market of today.
Try it today, add video content to your digital publications as an alternative to text to your readers. Remember, you can always track the effectiveness through the tracking analytics!

By 3D Issue