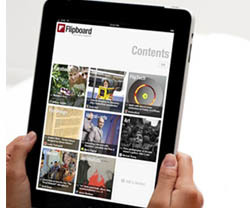 The waters are muddied, the horizon unclear and the end result unsure, what am I talking about? I'm talking about the role of digital content in today's digitized world. What isn't up for debate is that we are surrounded by digital content at every turn, whether it is through our smartphones, tablets, PC's or otherwise, we have never had so much content to choose from, this isn't the problem, the problem is even the highest ranking 'thought leaders' seem to be unsure of what path this content should take next. When you have the publisher of the world's largest independent political blog networks calling your product a scam, you know there is uncertainty in our midst.
This is exactly what happened last Tuesday when publisher Josh Marshall condemned services like Google Currents and Flipboard as 'scams against the publishers'. The bone of contention seems to be that publishers feel that readers such as Flipboard are getting between them and their readers, a sure way to get the publishers blood boiling. Whether this is entirely accurate or otherwise is something that remains to be seen. Flipboard CEO Mike McCue understandably and also a little predictably, doesn't agree, he argues that Flipboard is as much of an advantage to publishers as the readers, in a recent interview with Venturebeat, McCue highlighted the potential value of Flipboard saying it is all about exposing publications to new audiences and exposing media companies to a new revenue stream.
McCue did admit that he didn't have all the answers and questioned whether anyone else had either when he said, "Developing ways to support and subsidize great content is a work in progress," acknowledging that there are a lot of publishers out there still trying to figure out what sticks. This follows Wired and The New Yorker making similar moves by scaling back their operations with Flipboard suspending their advert sales efforts and ditching their full Flipboard feeds for less expansive ones. The reasoning for this?, the publishers feel they need to be directing more of the traffic that is digesting their content directly to their site, they feel that Flipboard and other similar platforms are an unnecessary interval between them and their readers and they aren't reaping the benefits of their hard earned content.
A match made in heaven
Up until recently both The New Yorker and Wired had been an integral part of Flipboard's armoury; they utilized Flipboard's ability to produce content in seamless, magazine-like fashion. Articles would be uncluttered, paginated and fast-loading. Multi-media would be full screen and advertisements would be sold for full pages in the publication, mimicking real life magazines. A match made in heaven one would think, apparently not.
Wired and The New Yorker will now appear in Flipboard as an aggregated view showing only excerpts to their content which will lead you directly back to their website, the immediate downsides of this being that content will take longer to load, banner adverts will be to the fore and multi-media will no longer be full screen. One starts to wonder why they have taken this decision when it becomes obvious that the readers enjoyment will so obviously suffer, well it seems that the publishers are worrying that they are giving away their content for free with no clear benefits other than to boost Flipboard as stand-alone platform, (incidentally any of those full-page advertisements that run in a publication would have to allocate some of the revenue towards Flipboard itself).
Kneejerk reaction?
Publishers understandably want to ring hoop as much revenue for themselves as they can, after all they have to pay the salaries of the journalists who produce the material, they are the ones with the overheads to consider when divulging their valuable content to third parties. They want to have their own apps and keep readers in tune that way; they may feel that as Flipboard is such a well laid out magazine-type application that has been so well received since its launch, that it could actually be a threat to their own aspirations. After all when the reader is having such a well presented and pleasant experience, why would they then shift over to an individual app that while possibly offering more content may actually have an inferior experience for the reader.

Wired and The New Yorker, like McCue, haven't quite figured out this conundrum yet either, although CEO Mike McCue say during a phone interview with Lauren Indvik of Mashable conveyed that he was confident that The New Yorker and Wired would advertise through Flipboard again at a later date. "Ultimately the forces of capitalism will take over," he said. "We will be able to demonstrate that publications are doing a great job selling these kinds of ads, and advertisers are going to become more and more familiar with it."
"It's not an overnight thing; this is a new kind of ad unit," he added, noting that some publishers doubled the amount of advertising they sold on Flipboard this month compared to the month previous.
A happy medium?
So we can garner that Flipboard and the publishers using the platform are making inroads to addressing the concerns of The New Yorker and Wired, you would be forgiven for asking did the aforementioned publications make too hasty a decision? One would have to imagine it wasn't a decision they took lightly and did their homework addressing such an important development, they didn't get where they are today by being hasty, so why do it? If we look to the setup The New York Times employs within Flipboard, where content is supplied to the consumer on a subscription only basis, thereby raising the value and viability of its subscriptions. Could this be the way forward for situations like these? CEO Mike McCue had this to say "It's another piece we didn't have available for The New Yorker or Wired at the time, but we ultimately we probably will make that capability available".
What is clear here is that there has to be common ground found, to do so will benefit all concerned, not just the publishers and Flipboard but crucially the lifeblood of all platforms, the consumers themselves. There seems to be a slight overlook on everyone's part when it comes to the consumer who clearly, judging by the estimated eight million using Flipboard enjoy the platform, so a compromise is essential for all concerned. Whether this will come in the guise of better supporting publishers through superior advertisement strategies that differ from those offered in the publishers own apps or perhaps there has to be a fairer system in dividing the revenue generated by the platform is something that only the passage of time will reveal. Flipboard is estimated to generate millions in revenue so why did The New Yorker and Wired stop the game, take the ball and go home? The timing of it, the day The New York Times deal was announced, has to be called into question as well, were they making a loud and bold gesture?
Moving forward the option for publishers to follow in the footsteps of The New York times subscription based entity is absolutely essential. All publishers have to have an equal playing field when it comes to generating revenue and this could perhaps be achieved by following the lead of The New York Times and creating pay walls for their publications. Other than this Flipboard are going to have to get creative, they will need to devise a better advert ecosystem than is currently in place, they may even have to come up with other revenue generating streams if publishers insist on a bigger cut of the profits. Failure to do so could see more high profile companies follow suit and Flipboard aside, the real losers in all of this would be the readers themselves.