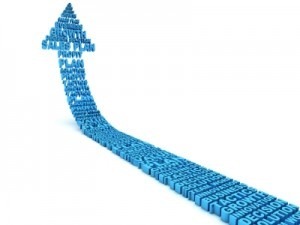 We noticed a good piece on The Next Web today which we wanted to share and to utilize by showing how 3D Issue Software can help with regard to content marketing in a B2B (Business to Business) context. If you have'nt heard already 3D Issue is now a suite as with each purchase there is a copy of a software package called 'Hubs' which converts your RSS feeds and web content into a digital magazine. The basis of the article was a PDF document entitled "2012 Benchmarks, Budgets & Trends" from the content marketing institute which details a range of statistics and findings on content marketing surprisingly enough. Read up on content marketing from the experts here.
The first points made are that:
• On average, B2B marketers employ eight different content marketing tactics to achieve their marketing goals.
• 60% report that they plan to increase their spend on content marketing over the next 12 months.
• Marketers, on average, spend over a quarter of their marketing budget on content marketing.
The article then goes on to outline 5 key points to bear in mind when creating a piece of content.
Transparency – allow your reader in but not the entire way remember we are talking here about teaser style marketing pieces we suggest these are used sparingly in a B2B context, we all like a joke but this is business at the end of the day right?
3D Issue lets you control your content, as the publications are stored on your server you can put up what you want and take it down just as fast! Use this – build publications in advance for a campaign, all ready and when it comes time to execute upload each as and when you need to enticing customers at the same time, hopefully your content will engage and be shared via 3D Issue's sharing options for post to wall in Facebook, for their Tweet or Google+
Go the distance – prior planning prevents poor performance! If we plan our content marketing and do it in a staged way and connect in a meaningful manner our piece will get cut-through.
Using 3D Issue to its fullest will allow you to plan communications effectively, if your content has been created and is ready for execution add video or audio and give publications some life, Version 5 allows for YouTube video implementation too, so you can save on server space.
A two-way street – Social media and interacting is vital in B2B contexts too so stay alert follow and be followed, like and post and the feed will be open, Twitter is oft cited as underutilized in the B2B arena – it shouldn't be, but don't underestimate the benefit of a good LinkedIn strategy too.

3D Issue allows your readers to share your content, this can be really valuable every post on a Facebook page is seen by that persons friends and is more likely to be viewed and bring traffic to your site encourage the share option – maybe add a graphic or arrow to your publication to get readers sharing, in a B2B context sharing a link is a nice gesture and can often be a useful thing for customers and prospects alike. It's not all about you – content creation is important, if there is'nt someone out there creating it for you every day then get someone else involved lots of bloggers are keen to guest blog to gain attention and so on – use these options.
Measure – make sure that your content is not published for the sake of it, plan, create, publish and de-brief – did it work, or not if not then why not?
3D Issue has full integration with each of your profiles, set them up and track activity for information on statistics which may be derived from 3D Issue fire us an e-mail info@3dissue.com
The image above was created by Castillo Dominici / FreeDigitalPhotos.net who are here.