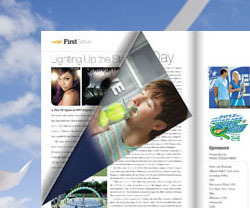 At this time of year there is a deluge of information to share with new and returning students in schools and colleges all over the world. The beginning of a new term, new course or in many cases new college can be a really daunting prospect for many students and information that is relevant and close at hand is key to ensuring a smooth transition for them.
Schools and colleges everywhere have embraced the digital revolution and have taken several strides towards making this material available across many digital platforms such as the tablet, the smartphone and even the eBook reader. The pamphlets are no longer flat 2D documents but have been enhanced with video and audio files, or with photo galleries, thereby enhancing the content.
Social networks are a key medium for sharing the content, with the option to make those university pamphlets available to read through the university Facebook page or simply by providing a means of sharing when reading the university pamphlet online.
Measurement will determine the success of your efforts. Analyse the data available to you. Which pamphlets were most read and why? Which articles were most shared and how?
Here are some tips for distributing those pamphlets to the widest possible audience.
• Why not dedicate a full page on your website to housing all pamphlets for new and returning students, and provide a search facility for them to locate the correct one.
• Ensure the online pamphlet can be read across all platforms so ensure it is not just available as a PDF but also in HTML5 format
• Allow the students to download these university pamphlets and other relevant material to read off line. Use app output formats for both Apple and Android devices. There are so many different tablet and smartphone devices and students may prefer to take the document offline and read it on the train journey to or from school.


• Use a Facebook app to make this material available through the school fan pages and whatever you do, ensure the document and their articles can be easily shared.
• Take it one step further and create a branded app for your university and use it to store all relevant digital content for your students. Students often hang out on iTunes and Google Play stores anyway so use it as another distribution channel for your material.
For more information on how other universities and colleges have succeeded in getting their digital documents online, have a look at some more samples here.
By Linda Daly