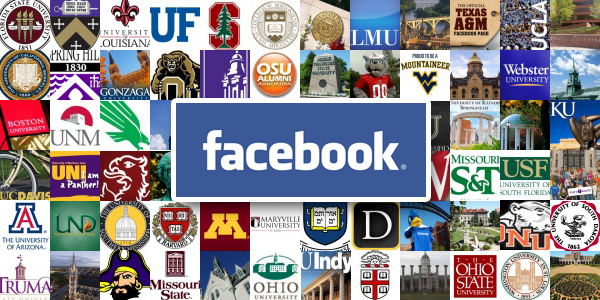 There are many universities out there doing some pretty cool things on Facebook and building incredible fan bases along the way. A Facebook page makes great use of social media callouts on its landing tab, providing quick access to a universities RSS feed, Twitter account, YouTube channel and Flickr photostream.
1. Enforce your  Brand
Social media is fun and many universities get it. There are lots of fun resources to make available to students such as screensavers, e-cards, pumpkin stencils and door hangers — all tied together with the university branding. Have a university mascot and get your students to bond with it. Use it to promote your brand. Have links directly to your online school store, with a section dedicated to branded gear, digital goods like wallpaper and its iTunes U store.
2. Alumni Groups
When it comes to alumni, many schools have separate Facebook Pages for different clubs across the country. It can be a great way to reconnect with past pupils. Post alumni events, but also post, if an alumni group is doing something great, a news article about them from their home town, for example. Some of the most popular posts on the alumni page have been calls-to-action, such as "What is your favourite memory from the first day of university?"
3. Reaching out to Prospective Students
Use a landing tab to urge them to join the community. It's a smart set-up. The tab is essentially a fillable form that opts students into the custom university Future Students application. Smart move, don't you think?  Another way is to think further about the use of dedicated apps to reach them. Essentially, each student gets access to two real-time streams. One provides updates from everyone at the school. The other contains updates that only pertain to topics the student has indicated she or he is interested in. Students can join groups and interact without friending other participants.

4. Improving Communications
Provide instant updates on sports events at times when games run so close to each other there isn't enough time to get emails out. Again apps can help personalise the information shared with different groups based on their preferences and areas of interest. A facebook app creates a closed community of students within Facebook. Students can join groups and interact without friending other participants.
These are only some of the many great ways that using Facebook can help marketing the wonderful education and community available at your university. Don't waste a great resource, start reaching out today!
By Linda Daly.