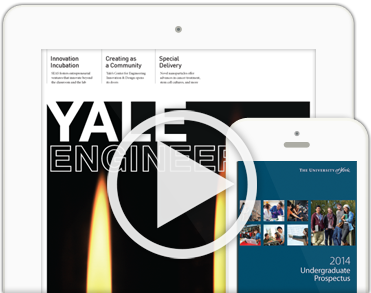 In this 3 minute video below, learn the benefits of using of using a digital publishing solution as part of your overall university communications strategy. It proves an inexpensive way to promote better cross campus communications that can reach an audience off line using native apps or online using their preferred mobile and tablet devices.
It introduces Sarah, a Communications Officer in the university, who is tasked with helping several different groups with distributing internal and external communications material to their target audience. She is also challenged with making that material available in a device independent format, to ensure it reaches the widest audience possible.
– The marketing department distribute interactive prospectus, campus guidelines and student handbooks to a student base that now comprises many remote students.
– Faculties need to promote their research to collaboration partners to attract much needed resources and funding
– Different representative bodies need to promote their events throughout the university and beyond, for example educational seminars, college sports games and entertainment events.
– Alumni can create online editions of their magazines and other communications.
– The University Gift Shop can use it to create an online catalogue to promote its latest range of branded gifts.
– General campus communications in the form of newsletters and reports to the staff and student bodies.

Branded university communications such as the Annual Report, the President's Report etc can be communicated to internal and external audiences alike.
All of these areas and more can be addressed using one simple software solution, 3D Issue. With an easy-to-use interface a member of staff can easily create and distribute this material without the intervention of the IT department, often leading to a quicker turn-around time. Hundreds of universities already use this software to address their university communications needs.
By Linda Daly