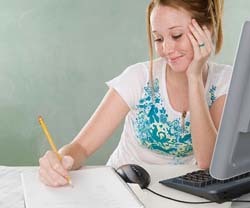 By the spring of 2008, the admissions rate at Harvard University had fallen to 7.1 percent out of an applicant pool of over 27,000 for the class of 2012. Stanford University, also reported an admission rate lower than ever before that same year —9.5 percent, down from 12 percent five years earlier.  The simple explanation for why it is harder to get into four-year colleges now than ever before seems to be supply and demand: more high school graduates than ever are competing for seats in the freshman class. Part of the increase in the USA is the result of immigration, especially from Asia and Latin America, but most of the growth is due to the children of the Baby Boom generation that created the great demand for higher education in the decades after World War II.
Not only are more students graduating from high school each year,  but a higher proportion of them want to go to college. A college education is increasingly seen as key to economic success in our society. At the same time, colleges themselves have increased their efforts to attract large, more diverse pools of applicants. Many have started aggressive marketing campaigns to spread the word about their offerings nationally and internationally.  Universities are looking for marketing talent to help bring a fresh approach, not necessarily those who have 'grown up' within the system .

Through colourful "viewbooks" mailed directly to students, visits to high schools by admissions officers, college nights at local hotels, and information booths at college fairs, colleges reach out to prospective freshmen with unprecedented energy and at great expense.
Although printed material and in-person presentations are still important ways for students to learn about different colleges, the Web is now the top source of information for students who have grown up online. Students can visit campuses through sophisticated online tours and webcams and can get many of their questions answered by "frequently asked question" (FAQ) lists posted on the Web, or by tracking college-sponsored blogs.
Colleges have invested heavily in technology to help them showcase. Digital publishing has become an integral part of many online marketing campaigns for colleges everywhere, allowing the admissions teams to present media rich material across tablet and mobile platforms, enabling students to continue their engagement off-line with the apps available.

By Linda Daly