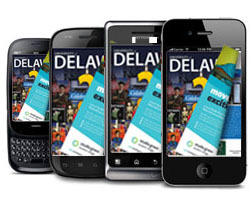 According to a recent article in the Guardian engaging students is about putting out your messages on multiple channels. Tablet ownership among college students has rocketed with at least one-quarter of university students currently owning a tablet. To reach your students and engage them effectively on this platform your publications must be available in html5. Here are four reasons why using html5 software can help universities in the digital race.
Textbooks. No college student likes spending $1,000+ per year on textbooks. A tablet costs much less than a year's worth of books, and electronic books could save students as much as 80 percent, according to Amazon. Universities will move in this direction.
Engagement. Keep college students interested in their coursework and make it fun. The Pearson Foundation, conducted a survey which found 78 percent of college students believe that tablets make learning more fun. Administrators and professors would do well to pay attention.

Collaboration. Because they are mobile but still powerful computing devices, tablets are the perfect tool for collaboration. The ability to send files back and forth, edit a presentation in the dining hall, download study materials and watch recorded lectures in a coffee shop is appealing to busy, social students.
Social networking. Tablets provide the hardware for connecting today's college students. Almost 9 out of 10 college students think that tablets are valuable for both education (86 percent) and personal entertainment (88 percent), according to the Pearson Foundation. It's the perfect storm for students who want to save money on books, engage in the classroom and connect with friends.
The current standard of higher education is too expensive to maintain. Tablets aren't the sole solution, but they prove that technology has the ability to change the model. Using html5 software is essential in reaching that tablet audience. With 3D Issue software, universities all over the world have enhanced their documents to reach their growing tablet community, see samples of their work here. Why not try it out for free for 14 days and download it now to reach your tablet audience.