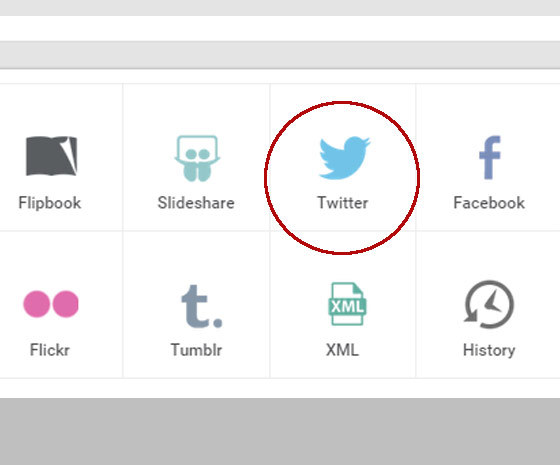 Hubs; our content aggregation tool has many new cool features that can be utilized for marketing and following special events.
The feature I will be discussing today is called the Twitter tool.
The technology allows users to enter the content via keywords, hashtags and geographical codes and Hubs will collate all the relevant findings and present them in a beautifully laid out Hub as a news wall or newsletter style depending on your preference.
The main benefit of using Twitter advanced search via Hubs in this way is that the content is instantly arranged, and ready for your audience to enjoy.
Simply choose your desired search criteria in any of the ways listed below to help you gather the best, most related material to suit the subject matter that you are interested in.
How to search:
Search tweets based on location
In Hubs, under the Twitter Feature you can search tweets based on location and also can have control over the tweets that can be excluded.
Below are some examples of how to use twitter search in Hubs for extracting cool social driven content around events.
• Here is an example
-RT –election geocode:40.714353,-74.00597299999998,20km
In the above I have listed all the tweets except for the ones that have key word "election" and RT customary signal within 20 kms radius space of the geo location. The distance can also be searched in miles, inches, centimeters, etc…
Aggregate tweets from a certain location
• You can also add tweets with specific keywords that have been tweeted from that particular location.
Example of how to search: sandy OR flood OR surge geocode:40.714353,-74.00597299999998,20km
Search tweets by hashtag
• The Hubs platform will allow you to show tweets that have a particular hashtag that has a picture or video attached to them
Example of how to search: #HappyBirthdayBeyonce photos
• Lists tweets that only contains photos
• The hubs can list tweets that have hashtags from particular users
Example of how to search: #HappyBirthdayBeyonce from:Iam_hariCR
Collect tweets from varied twitter users
• One can also have multiple users
Example of how to search: #HappyBirthdayBeyonce from:Iam_hariCR OR from:hitbridge OR from:kagedmuscle
Search tweets via language tweeted
• The Hubs can add tweets that are tweeted in a particular language.
Example of how to search: lang:zh-tw (for traditional Chinese)
Search via filters
• One can also add tweets into our hubs using on various filters
Example of how to search: #4th July filter:videos
The above example lists all tweets with hashtag 4th of July and have videos attached to them.
• An example for adding tweets without videos:#4th July -filter:videos
The Hubs twitter feature will allow you to add tweets sent to or from users containing:
Below is the list of Operators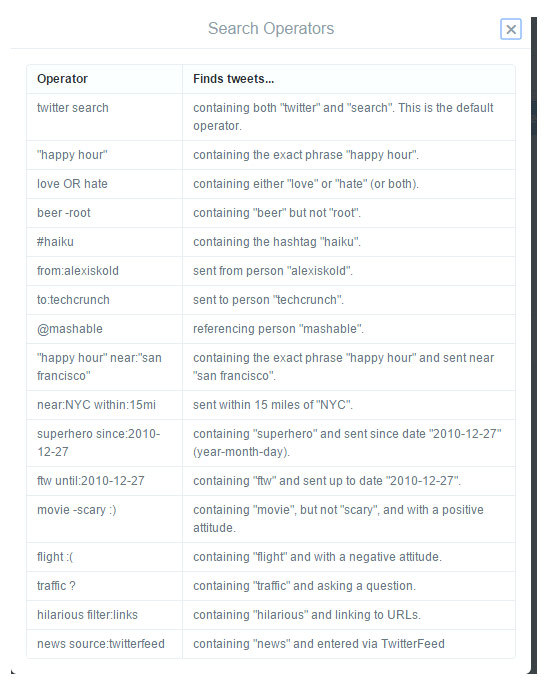 Below is an example of real complex search that can be used, in our Hub search
-bad #PureMichigan. lang:en near:"Michigan, USA" within:15mi since:2015-09-01 until:2015-09-04
http://support.gnip.com/sources/twitter/powertrack_operators.html
More operators are listed in the above link.
In the above example the tweets that are going to be added are those which do not contain the word bad has #puremichighan in language English all tweets within 15 miles in and around Michigan from and to above mentioned dates.
If you have any questions regarding this "Advanced Twitter Search Feature" within Hubs as you create your newswall please do not hesitate to contact us info@3dissue.com.
By Audrey Henry