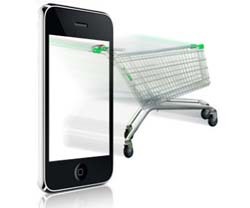 3D Issue can provide an ideal platform for your e-commerce marketing collateral to take off from. Digital publications provide an immersive environment in which readers can really get to grips with brands that they know and importantly as research is telling us – those they don't.
'App use' by consumers is indicating that many consumers are now downloading an App in order to learn more about a brand and what that brand can offer. So the 3D Issue platform provides not only the ability to publish content but also to sway potential fence sitters. Using 3D Issue in this way is a very possible reality and easily by uploading direct to your website.
Using 3D Issue for those seeking out brand information can easily be accommodated and also allow them to get involved by downloading a 3D Issue publication to their chosen platform be it Apple iOS or Android.
3D Issue provides an easy to use functionality allowing readers to interact with their publications. By adding clickable links to your content readers may add content to their basket or go directly to a shopping checkout elsewhere on your site.
Interestingly 7% of Harris Interactive survey respondents said that by not offering a mobile app it could hurt their loyalty to that retailer. All 3D Issue publications created in 3D Issue Professional and Enterprise allow readers to download to the 3D Issue FlipBook Viewer App.

Features which you'll certainly be using in 3D Issue to encourage your readers to shop are:
•  Download file option – Add a price list or other useful information which you might not want to include in the document itself;
•  Hotspot tool – providing a link to readers is important, make them stand out with color and sounds;
•  Add/Remove/Edit – by reopening an existing publication you're free to make changes to the publication easily on the fly keeping your offers and propositions relevant;
•  Library list – 3D Issue installations provide a simple platform which illustrates your new publications ready for your readers direct from the cloud – the icon is a cloud too. Nice.
For more information on 3D Issue Digital publishing get in touch at info@3dissue.com
Image from the nice folks here.
By 3D Issue