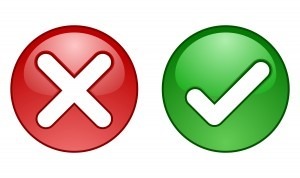 Digital editions; whether you are creating digital magazines, digital newsletters or digital brochures they are a great way of broadening reach whilst providing your readers with a unique, engaging viewing experience. There are, however some mistakes when creating your digital editions that should be avoided in order to create the very best reading experience for your readers. Check out our list of Top 5 mistakes to avoid…
MISTAKE 1 – One design fits all
SOLUTION – Optimise design for digital
The way that digital and print readers read and consume media is different. Digital readers are often on the move, they could be reading on a train journey, whilst in a queue at a store or at home. This means that they scan the material, looking for key points of interest which once spotted they can then read more into. The digital reader may also be viewing on smaller devices such as iPads and mobile devices.. this available reading space can therefore be much smaller than the full size print publications.
Think about how you can optimize the design and layout for them. Consider making articles shorter, text larger, adding highlighted or feature points that stand out on the page. As mobile devices show the publication as a smaller version, optimise the pages so that they can the text without having to zoom in.
MISTAKE 2 – Digital editions take a long time to load
SOLUTION – Reduce the Load time
Ensure your digital publishing solution allows you to spread the load for larger publications. A load controller allows you to specify a set number of pages to load in the browser at one time, instead of the entire publication at once – which for a 1000 page catalogue would result in your readers facing a prolonged waiting time. A quick fix by setting the load control allows fast access for your readers.
MISTAKE 3 – Your mobile readers experience a 'basic' view of your digital publication (or cannot view the publication at all!)
SOLUTION – Enable HTML5 to reach all your readers regardless of their device
Adobe stated they are discontinuing flash support for mobile devices in favour of HTML5. This means HTML5 will surpass Flash as the primary platform for digital magazine distribution as HTML5 is supported across all devices including the iPad and iPhone.

3D Issue Version 5 will automatically generate HTML5 editions as well as flash versions of your publications. This means that the two versions of each magazine are created and uploaded to your website, then when a user comes to view one of your digital magazines their browser is checked and they are automatically shown the most suitable version for the device they are on.
You can see this in action via our samples. If you head over to this digital magazine samples page if you click on any of the samples whilst you are on your PC/Mac you will see the flash magazine, however view the same page and access any of these samples from your iPad you will see the HTML5 version. If you don't have an iPad to hand you can click on the 'Tablet View' link under each sample and this will show you what iPad users would see. This solution is the only tool on the market that offers the same rich digital magazine experience in HTML5 that readers have come to expect in their flash editions.
MISTAKE 4 – Not taking advantage of online distribution networks
SOLUTION – Use available channels
Use all the channels you can to gain exposure for your digital magazine. If you have an email subscriber list then this is where to start, send out the email with the digital magazine to your subscribers as a priority – after all these are people that have actively opted in and requested to be receive this as soon as it is ready.
Then once your email subscribers have received the edition, then think about where your other 'fans' are… Facebook, Twitter, Google+, all these networks have people subscribing to what you have to say, so post them a link to the edition so they too can view. You might even want to think about now and again providing these networks with the subscribe link so they can get the digital content delivered straight to their inbox in future.
MISTAKE 5 – Search engine users cannot 'find' your publication or content
SOLUTION – Take 5 minutes to complete the SEO section to your publications
If you always leave the 'SEO info' incomplete then you are really missing out customers finding your publication via search engines. Here is an example of how an online publication is listed in Google:
Note that there are keywords present in the Page Title, a meaningful and useful page description that helps the searcher understand what the ebook is about and finally keywords in the url (taken from the name of the project folder.) If the SEO info in the ebook software is left blank, finding it via a search engine (which is the route the majority of your customers would take to try and find you) would be very difficult as the search engine would not rank it very high on any keywords as there are none in the key areas.
By 3D Issue