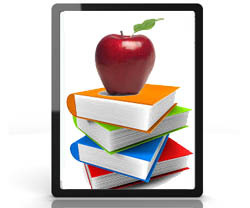 Thousands of educators all over the world have embraced the digital revolution when it comes to textbooks. Other are taking it one step further, helping them to improve other areas of their respective jobs. A digital publishing software solution in any school or college has proven to be a wonderful tool for educators and a great resource also for those in administration.
1.  Many large educational publishers such as Pearsons and Oxford University Press have made e-books and i-books available across the curriculum in Primary Sector, the Post-Primary sector. The digital edition is no longer just a pdf version of the printed text. It's a live edition with embedded multimedia such as photo galleries, video files and audio files. These digital editions provide children with a more comprehensive overview and understanding of the subject in question. Digital books with embedded audio files can read aloud to the children as they follow the text on the page and will automatically turn the page at the end of the audio
2. Children are growing up in a digital world, already familiar with the "touch and swipe" behaviour, learned on their parent's smartphones and tablets, long before they enter the formal school gates. They are used to "instant" and "relevant" information. How can we expect them to return to the flatter dimensions of a textbook for all of their learning?
3. With the rising costs of text books, many educators beyond the primary sector, no longer depend on one or two text books as a basis for their course of study. Instead they pull together several sources of data and can create their own course notebooks, with a wider and often more up-to-date view on the topic.
4. Digital books can be distributed in so many different formats today. HTML5  editions make them tablet and mobile ready. Several have apps which allow them to be downloaded and read offline on a device of personal choice.
5. Material can be archived in these apps and publications can be updated at source, with the update immediately available to all who read it when they next open it. Typos and grammatical errors can be rectified discreetly.  New content can be added at will. No need to charge for a new edition next year or to run a costly reprint job.

6. School and college promotional and marketing material can be made available to the school community. Material can be tailored for the right audience.  International prospectus can include more information about the accommodation options and local information offices for overseas students. Online students don't need this detail. In an earlier blog post I gave 5 great samples of interactive prospectus, highlighting this point. Colleges often have to produce catalogues,reports and white papers such as Haas School at Berkley's president's reports and Duke University Store's catalogue.
7. Social media sites and popular app stores have proven to be another distribution channel in getting material to students. Oxford Brookes University distribute their Observe magazine in a Facebook App. Journal of Urgent Care Medicine is distributed for free through the app stores
Further examples of digital editions used in the education sector can be found here.
By Linda Daly