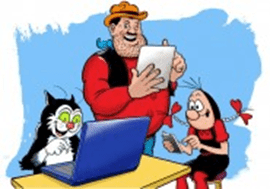 TechweekEurope reports on one of the highlighted news at the Cartoon Museum in Central London – the much-loved and well known comic book Dandy going digital. Thus, the last ever print edition of the Dandy went on sale in the UK last month. Although the comic book sold more than two million in the 1950s; it was reported that this figure has decreased to only 8,000 in recent years.
In what ways can the digital edition of The Dandy change this situation?
The company is currently working on a plan to make the digital edition appealing not only to children but also to some adults who enjoy the Internet and video games. Likewise, the comic book will also be available via applications for tablet and smartphones as well as providing extra video content, games and interactive features. The article also reports that the pricing method has been also modified as follows: One issue will cost £1.49, with a subscription priced at £29.99 a year, less than the £1.99 single issue price and £85 annual subscription of the print edition.

According to Ellis Watson, CEO of publisher DC Thomson 'the company had recruited as many original artists as possible to offer something different and likened it to "getting the band back together'. In summary, the Dandy digital edition is responding to the needs and wants of a new generation of readers who are increasingly using technological devices for reading purposes. Accessibility, affordable pricing and interactive features to engage the end readers can certainly foster the success of this new beginning for the Dandy.