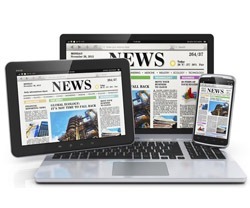 Can a Flash publication be as effective as a HTML5 publication? According to Forbes.com, you have good reasons to tell the world your Flash publication is here- and explains why opposing HTML5 and Flash technologies is nonsense.
The article asserts that '99% of what's been written has been about HTML5 replacing Flash; and this concept can prevent people from seeing the bigger picture'.
Some key facts regarding the role of both technologies in a website are listed in this article:
•  The only way to build a website is to use HTML pages, and then to embed Flash elements in them
•  Flash is a de facto standard for the publishing industry
•   HTML5 is a specification in working draft, scheduled for publication in 2014
•   Less than half of installed browsers are HTML5 compliant, with different levels of compliance
•  The video element in HTML5 is perfect for basic video players, but Flash and Silverlight are much more suitable for advanced video feature
Undoubtedly, Flash and HTML5 have their pros and cons and its use depends on the particular needs of a company. The good news is that with the 3D Issue software, you do not need to choose between HTML5 and Flash; you are free to create both Flash publications for desktops and laptops and HTML5 publications for mobile devices and tablets.

Visit our samples section and view Flash and HTML5 digital magazine samples. You can also attend a live demonstration where you can watch our team create a HTML5 and Flash publication from scratch – you can even ask questions along the way.
Feel free to drop us an e-mail at customerservices@3dissue.com to clarify any doubts or share your ideas or comments on Flash and HTML5 publications.
By 3D Issue