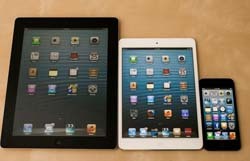 The tablet market share has been increasingly growing throughout 2012 and in this way making digital magazine content available to a wider audience. What can be expected in this sector during 2013? A good place to start analysing what the future might bring is having a look to the latest report on the market share after the holiday shopping season. This article provides us with the latest report based on the performance of some of the main players in the tablet sector: Apple, Amazon, Google and Samsung.
Surprisingly, one of the leaders in the market Apple lost more than 7 per cent to Amazon. Thus, this article reports that 'Web usage of Apple's iPad fell more than 7 per cent in North America after Christmas, while competing tablets from Amazon, Google, and Samsung all registered gains'.
Amazon's success in the tablet market has been strengthen thanks to the Kindle Fire 'the company's top-selling product', which  took the second place in the market and gains web usage market share. According to this article 'The Kindle fire gained 3 per cent to account for 7.51 of all impressions during the period'

Third on the list, Samsung's Galaxy Tablet gained a market share of 4.39 per cent, followed by Google Nexus with a 2.04 per cent share and Microsoft's Surface with just a 0.4 per cent share.
As a result, we can say that this report on the tablet market share not only shows who leads the market at the present time but it also reveals the nature of the market; fast changing and challenging. The tough competition in the sector can certainly lead to new developments to improve the product's performance and as a result increase the overall digital consumption.
According to this article after Christmas, some companies like Amazon are also investing on holiday sales as well as tablet ad impressions in the U.S. and Canada. More promotional activities can be beneficial to reach a wider audience with digital content in a more attractive and engaging way. The future can bring more surprises for this particular sector. We will keep you updated with the new developments in our blog section.