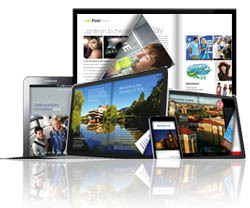 With the new academic year almost upon us, the admissions team and student services teams in college and universities all over the world are heating up.  Offers for course places have been made and students have accepted their fate. The race is on to secure suitable accommodation and prospective new students are hungry for information about all facets of life on campus, both curricular and non-curricular.
With that new student intake comes a whole deluge of personal devices. Guaranteed, students will all have a smartphone, a tablet device or a laptop, each with its own unique operating system. Educational marketing and student support teams have to cater to that today if they want to ensure that their content is read and understood. Let's face it, a good student handbook, with informative relevant information will cut down on the volume of calls coming through to the admissions teams.
The information must be engaging and easily understood. It must be relevant to the student who is consuming the content and it must be easily shared, in keeping with their long-established internet habits. Information for this new generation should be enhanced with multimedia where possible –  use video recordings, use audio, use photo galleries to further illustrate the details.

Let your students access this information in a way that best suits them. Let them use an app to download the book and read it at a time that suits them, on their preferred device. Maybe that will be on the bus ride home, on the train into college in the morning, during some other period of downtime. Post it to your college Facebook page and let them read it there.  You can take it one step further and have a university branded app available through the popular stores of iTunes and GooglePlay. Post your handbook to that branded app and let them access it there.
Lots of colleges are successfully engaging with their students in this way today. Oxford Brookes University has published an international guide on their site which can be accessed through all of the means mentioned above. A student guide is just one of a number of publications that can be made accessible in this way, through the website, through  Facebook pages, through popular apps stores.
By Linda Daly