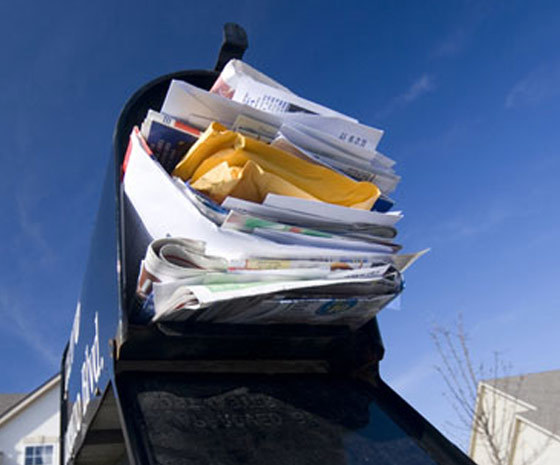 The answer to the question in the title of today's blog is YES! Businesses are wasting money on vast amounts of expensive printed literature that no one even reads.
Do you receive endless volumes of junk mail? Are printed coupon books, fliers, brochures, the Yellow Pages, supermarket offers, and catalogs filling your home and work mail boxes leaving you with an abundance of unwanted printed material to recycle? Fear not, help is at hand. Now there is an answer! A simple way to stop this annoying junk mail being sent to you. The solution is a mobile app called Paperkarma.
How the eco-friendly app works:
Take a photo of the brochure you receive as junk mail, getting your address in the shot. Paperkarma will then speedily go about seeing to it that you get unsubscribed from that mailing list.
Figures released from Forest Ethics state that:
"Unwanted mail accounts for over 100 million pieces of mail each year, about 20% of all mail delivered in the world."
"Approximately 44% of junk mail goes to landfills unopened."
"When paper decomposes in a landfill, it releases methane, a greenhouse gas 23 times more potent than carbon dioxide."
Businesses that produce the printed junk mail now look to digital marketing solutions to circulate their catalogs.
Digital catalogs can reduce those high printing and distribution costs and make it easier for the people to view the products a company has to advertize and market.
Advantages of digital catalogs:
1. They don't take up physical space, they don't use paper or ink.
2. They are cheaper, once you buy and install a digital publishing software you can produce endless amounts of online catalogs and marketing materials.
3. They can reach more people. You can email, share and host your digital catalog on your website to be viewed by a global marketplace. Your catalog can be viewed on all devices making your scope larger.
4. Your catalog can be shared instantly. No waiting on the postman or slow delivery times. If an offer changes or runs out – you can easily update the digital version and send new versions of the catalog out at no extra expense.
5. They are more appealing; this is due to the many interactive features a digital publication can possess.
If you have any questions about creating digital versions of your marketing material or if you would like some more information simply contact info@3dissue.com.
By Audrey Henry