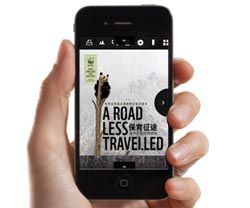 Since most people nowadays are browsing articles either from their smartphone or their tablet, the news industry is slowly turning towards the mobile market.
We've already talked about the future of digital publishing and how the generational change is one of the main reasons behind the evolution of the publishing landscape. With this in mind, it's time to think about starting your own magazine for mobile users.
Below I'm going to walk you through the main areas of interest you should assess when starting your own magazine or when creating a mobile app for your audience.
1.Choosing the right software
Building a strong foundation for your mobile magazine app is essential for it success. In order to do so, it's always a good practice to use a software that will not only automate the process but let you do it easily too.
Check out our customizable mobile app

The software you choose should allow you to automate the publishing process and customize the platform to suit the needs of your audience.
2.Build a list from day one
Creating a list of users should be a huge part of your mobile marketing strategy. Once people create a profile on your app, it's easier to convert them into loyal followers or even buyers depending on your goals.
You can see now why it's important to choose the right software before you do anything else. The platform used to build your app and the call to actions you use, will directly affect the number of users/subscribers you'll accumulate.
3.Be creative with your revenue streams
Although revenue is one of the most important things for business, it should never be before your user's experience. Believe it or not, this is one of the most common mistakes businesses make when creating their first app.
Having the perfect app won't give you the results you're looking for if the intrusive display ads you've put on it annoy the users. Be creative and think of revenue streams that will allow you to grow a better relationship with your audience.
In other words, don't focus too much on making money from your mobile audience at first. You should think about providing real value to your readers instead.
4.Collaborate with influencers in your niche
If you aren't a household name explore the idea of collaborating with industry influencers. Conduct a research of some of the most popular blogs and prepare an outreach campaign.
Keeping an eye on the most viewed blogs on mobile devices is a no brainer, after all you're starting your own magazine for this particular device.
5.Make your mobile experience unique
Offer a unique value to your audience, offer them something they can't find on any other site or at least not on your communication channel of choice.
If you have a news app, create a special section on your mobile platform that allows you to combine working with the industry influencers, with offering your customers something they can't find anywhere else. You'll be giving your readers a reason to go and download your app.
Creating a magazine for mobile and tablet users requires an analysis of your market and an assessment of the type of software that can give you all the necessary tools to reach your audience.
Although doing so, could seem time-consuming, a proper study of your options and situation will allow you to build a top notch and engaging app to communicate with your potential customers.
If you're ready to start your journey in the mobile world, you can start today with 3D Issue's free trial, and as always, if you have any questions send us an email at info@3dissue.com.