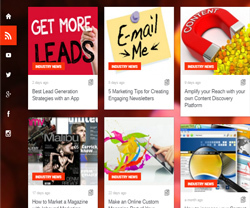 Establishing your presence on social media although is a big thing, it's far from easy. You've created your social accounts and for a while you were increasing the number of followers on Twitter, likes on Facebook and connections on LinkedIn.
However, now everything seems to have reached a plateau, so what else can you do? Wasn't that it?
Well no, there are other strategies that you can put into place to bring those numbers up. Creating a hub that centralizes all your social media efforts is probably one of the easiest and most effective ones.
A hub will allow you to showcase all your content in just one place. Your audience will be able to see everything you publish on Facebook, Instagram, Twitter, YouTube etc. even if they don't have accounts on all those platforms. In other words, a hub creates a brand new channel that lets your content reach a wider audience.
But that's not all, creating a social network aggregation magazine (or hub) is the perfect way to start a conversation with your audience.
There are a few things you need to consider before you start your own social network aggregation magazine though:
Avoid Cluttering
When creating your hub pay special attention to its design. Make sure that the info is displaying nicely, that is easy to read and that users will find what they are looking for with just a quick glance.
Keep things simple. Feature the most popular posts on the first page of your hub and allow your audience to explore separate sources or categories in depth with only a couple of clicks.
The user experience should be straight forward. People don't have time to be searching for information, if they can't find what they need almost right away, they will lose interest.
Funnel Your Leads
Now that you've caught your audience's attention and that they know how to find you and your brand's latest news through your hub it's important to act smart. Treat this highly targeted group of people as potential leads.
Publish and share information that will benefit them, but from time to time share valuable content related to what you have to offer too. Content that shows the benefits and uses of your products. Create videos with demonstrations, publish articles or case studies in your blog, initiate a conversation in Twitter with a hashtag and track that hashtag with your hub.
This should slowly lead your audience down your sales funnel and at the same time stablish you as a strong brand in your industry.
Responsive Design
As you can see, your social network aggregation magazine can help you increase your conversion rate, but for that to happen you first need to engage as many people as possible.
There's no better way to do so than to create a hub that has a responsive design and that can be accessed from all types of devices, mobiles or laptops. People like checking the news on their phones all the time, and there's nothing more annoying than having to zoom in and out to read something. Your content and hub need to be responsive.
Responsive Attitude
In a market that is constantly evolving, you need to be dynamic. As the number of your visitors increases your social network aggregation magazine will need to be able to change and adapt. You need to be responsive to the needs of your audience.
Don't leave unanswered comments, pay attention at the statistics and the data you gather and act accordingly. Which are the posts that get more shares? Which videos have more likes and visits? Which have the least? Does your audience follow a certain pattern? Are they more active during the week or during the weekend? etc.
Data can be extremely powerful if it's used in the right way.
You can have your own social network aggregation magazine in just a few minutes by using our hub software. See it for yourself when you try our fully functional trial and if you have any questions please contact as at info@3dissue.com so we can assist you.